West Bank kids make rough trip to school
( 2003-09-02 10:22) (Agencies)
In what's become a grim back-to-school ritual, hundreds of Palestinians heading to the first day of class dropped their backpacks and threw rocks at Israeli soldiers, who fired tear gas and shots to scare them off.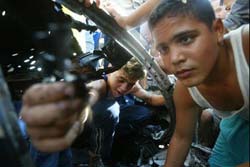 Palestinian boys examine the remains of a burned-out vehicle, shortly after an Israeli helicopter missile attack left one dead and twenty-six wounded, in Gaza City, Gaza Strip, Monday, Sept 1, 2003. [AP]

Violence has become so familiar to young students that they seem to shrug off the risks, even though many have seen classmates hurt or even killed. On Monday, as a tank moved toward a crowd of students, a flaming Molotov cocktail was thrown, and a soldier from the tank shot back, critically wounding a teenage boy, a rescue worker said.

Seventh-grader Saleh Qussa, sweaty from running, ducked into a doorway for cover and calmly noted how excited he was to have a new black-and-green backpack. He said he was in a hurry to get to class to see his friends.

"I want to see many friends that I couldn't see in the summer vacation. I'll keep waiting until I find a way to get to school," said Saleh. He had just 300 yards left to go.

With three years of Israeli-Palestinian battles entering a new round of intensity, some of the more than 1 million Palestinian children in the West Bank and Gaza Strip ¡ª already way behind in their studies because of disruptions due to the fighting ¡ª again found their way to class blocked by Israeli tanks and troops.

In Nablus, the West Bank's largest city, some teachers in the last school year ran classes out of their own apartments, because the journey to school became too perilous.

On Monday, the Israeli military opened checkpoints for teachers and students, but a few tanks and other armored vehicles patrolled Nablus and blocked some main roads. Students hurling stones clashed with Israeli troops in many parts of the city.

A 15-year-old boy was in critical condition after being shot in the back of the head by live ammunition. Dr. Khalil Mohammed said surgeons removed the bullet from the boy's brain. A rescue worker, Ala Aratrut, said a soldier from a tank that was hit with a firebomb shot back randomly and hit the boy. The army had no official comment.

Talia Somech of Israel's military government in Palestinian areas said efforts were made to plan safe routes for Palestinian students to get to schools; teachers were issued special IDs allowing them to pass checkpoints.

Education Minister Nabil Abul Hummus said he expected another tough year. "Our new school year starts in difficult and complicated atmosphere," he said.

In the West Bank city of Hebron, Israeli troops enforced an around-the-clock curfew downtown but permitted students to walk to school.

Hebron student Ashraf Deen, 11, said the sight of soldiers on streets that empty out under military curfew didn't frighten him anymore. "For me, it is the same whether there are people on the street or not. I know the situation," the sixth-grader said confidently.

In the Gaza Strip, which unlike parts of the West Bank has not been reoccupied by Israeli soldiers, there are few roadblocks for students. But one Israeli military barrier meant to protect a Jewish settlement shuts down the strip's main north-south road. That could keep college students away from Gaza City's universities which start Tuesday.

One 7-year-old, Raouf Abu Ziade, said he was nervous heading to school. Streets are unsafe because of Israel's recent missile attacks on militants, often as they drive through roads packed with cars and foot traffic.

The boy made his father come with him because the sound of Israeli F-16s flying above their home in Beach Refugee Camp scared him.

Back-to-school time brought different concerns to his out-of-work father, Sulayman, 39.

"I couldn't buy new clothes for Raouf because of the money situation. I'm sorry for that," he said. "But the boy told me that he will enjoy school anyway."

As they parted, the boy asked his father, "Are you going to wait for me outside when I finish, as you promised?" His father nodded yes.