Media shakeup: Publish what readers want - or perish
( 2003-09-02 09:30) (China Daily HK Edition)
Zhu Yulong is the Party Secretary of an impoverished village in east Sichuan Province, but the amount spent on the 20 newspapers and magazines he subscribes to every year seems to belie this fact. Altogether, the publications cost around 150,000 yuan (US$18,122) in total, or about 10 yuan (US$1.20) per villager annually.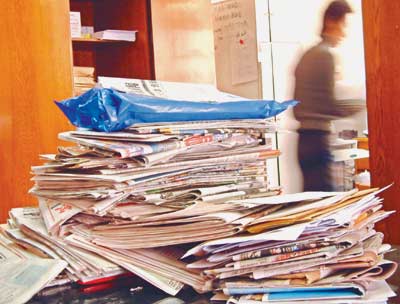 The suspension of mandatory subscriptions to local papers and trade journals would push many print media products to the marketplace and survive by catering to readers' needs. [newsphoto.com.cn]
Do not assume that Zhu is an avid reader or that his fellow villagers have insatiable appetites for information. Most of these publications go straight into the waste-paper basket. Rest assured that they are all recycled because office workers just love to squeeze a few extra bucks from the ever-present piles of paper.
"The trouble is, our office has a budget of only 30,000 yuan (US$3,625) to cover all administrative expenses. I get a headache every year when the media sales reps call on me. How can I cough up this money? If I say 'no' to one of them, he may dog me down the road as they all represent various government agencies," laments Zhu.
But Zhu's headache might ease a little if a new government regulation regarding media reform is fully implemented. Forced subscription has been wreaking so much havoc on the media industry that the central government is determined to reduce it by 1,000 unwanted publications.
While the rest of China strides onwards from central planning to a market economy, much of the print media remains in the hands of government agencies, and their products are force-fed to all levels of government offices, at a cost ultimately assumed by the taxpayers. By one estimate, China's media market takes in from 16 to 20 billion yuan (US$1.93-2.42 billion) a year. And government spending covers about 6 to 10 billion yuan (US$725 million-1.21 billion) of that. Of the 2,137 newspaper titles in the country, as many as 1,250 depend upon people like Zhu Yulong, whose offices may or may not have the budget, much less the inclination, to pay for subscriptions.
One clause in the regulation stipulates that those titles earning less than 50 per cent of their revenues through voluntarily paid subscriptions will be forced to shut down. As media economist Cao Peng explains, whether a subscription is paid for out of one's own pocket or out of a government expense account is not the issue. The determining factor is whether the subscription is the result of free will or coercion. When a tax collector solicits subscriptions for a publication produced by his agency, the small-business owner is not really in a position to choose.
Another clause in the regulation specifies that no ministerial-level agencies should run newspapers, and this also applies to provincial-level tax and public security agencies.
"It's all about power," asserts Lu Hualing, president of the China Newspaper Industry Association. "China's media system is incorporated in the government bureaucracy. When selling a newspaper is part of administrative power, mandatory purchases are unavoidable."
Waste paper
In theory, China's media industry is totally controlled by the government, with the door just slightly ajar to let a few private and foreign investors into the distribution and retail sides of the business. However, many of the print media products have been pushed into the topsy-turvy marketplace and thrived. The strongest contenders, such as Beijing Youth Daily and Southern Metropolis News, are run like businesses, and it is an open secret that some have private capital behind them.
The segment hit hardest by the new regulation includes county-level newspapers and trade journals, which will be forced to stop operation if they cannot find enough voluntary subscribers. And most, if not all of them, will not.
A typical county newspaper is a department within the county government employing a dozen reporters and editors who need enough news to fill up four pages. At least three of those pages feature articles lifted from other newspapers, leaving a little space for local news. And local news is mainly made up of county officials attending all kinds of meetings.
"We've never been on a newsstand. Who in his right mind would buy our paper?" asks the publisher of Xinmin News, a daily printed in Xinmin, Liaoning Province, a farming county with 700,000 residents.

A man reads Zaoyang Daily, a local-government-sponsored newspaper in Zaoyang, Hubei Province. The newspaper stopped publishing following the central government's decision to cut about 1,000 unwanted publications. [newsphoto.com.cn]
The term 'trade journal' lumps together all those publications distributed through either an industry or quasi-government pipeline. For example, Workers' Daily might resemble a regular daily paper, but its subscription base is built upon the hierarchy of trade unions. Statistically, trade journals account for the bulk of print media titles.
Many of the producers of these titles realize that they have a unique market niche. A bureaucratic mentality along with a prolonged detachment from the target readership has left the editors of such journals in a quandary. "We run our paper by intuition," admits Wang Wenzheng, editor-in-chief of China Medicine News. "Sometimes we feel we're doing a good job, and other times we feel we need improvement. But we're never sure what our readers want because we don't know how to cater to their needs. But now, our motto has changed to: 'Whatever our readers demand, we'll provide it'."
In an effort to inject some relevance into its publications, China Labour Insurance News has suddenly discovered its strengths. "We launched a career guide written from our unique vantage point and it is gaining a foothold in the market. Reform has opened our eyes to the needs of our readers," says an editor with the paper.
Experts agree that ministerial-level trade journals will have an easier time surviving due to their access to industry resources. By being spun out from government agencies into trade associations, they will pave the way for market-driven management. But the provincial-level journals and county-level papers will face an uphill battle once the transfusions of government funds and mandatory subscriptions come to an end.
According to estimates, some 30 titles of this nature are published in each province alone. Nationwide, translates into about 1,000 titles on the brink of certain extinction unless a given county's population numbers at least half a million, with a GDP of 10 billion yuan, and the publication in question earns not less than 4 million yuan (US$483,260) in annual advertising revenues, as spelt out in the regulation. A county paper will need between 10 to 20 million yuan (US$1.21-2.42 million) in annual revenues to be run properly, comments Song Jianwu, director of the media management institute at Renmin University of China. Only 30 titles in the country meet these prerequisites.
Innate malaise
On the surface, China has one of the world's most flourishing print media industries. In the past decade, the number of newspapers has grown from 1,400 to more than 2,100, while magazine titles have increased from 7,000 to 9,000. But most of these periodicals have only a tiny market share and few publishers know how to position their titles to meet market needs.
During a research tour to Shanghai, Liu Binjie, deputy director of the General Administration of Press and Publication, disclosed that China's print media is actually in such limbo that it is extremely difficult to "give birth" to a new title or to let one "die". The Darwinian law of survival of the fittest simply does not apply here. We need an exit strategy so that those with no readership, no social or financial returns can be terminated, he said.
Cao Peng, a media economist at Hebei University, blames the lack of distinction between government functions and media organizations. A publication run like a bureaucracy will naturally take on all the lethargy of a red-tape attitude. The result is neither a good media product, nor a good official tool for promotion. Often, it is not even good as a newsletter.
"We have come to the point where the only option is to shake up the market. The blurring of the lines between government and business in the media industry is the source of all evils. We have a grand media machine, but there are a lot of faulty connections within," claims Cao Peng.
Yu Guoming, a scholar with Renmin University of China, echoes the sentiment. Media reform is no longer merely an option, he says. China has developed to the stage where we (the media) must go with the times and push for a new round of market reforms. But on a deeper level, this is about protecting the public's right to know, he maintains.
However, industry consolidation is easier said than done. Many of the titles on the chopping block are produced by bloated organizations with relatives of officials, as well as surplus personnel from other agencies, on the payroll. Where will these people go? Will they join the regular army of the laid-off or will they be transformed into media professionals?
"That's impossible," exclaims Liu Yugang, a reporter for a county paper in Shandong Province. "Attempts to slim down have been made before. But the more the central government urges cut-backs, the larger and more numerous these newspaper organizations become."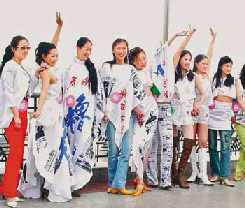 Models wearing newspaper-patterned dresses pose for photographers during an evening newspaper's promotion event in Jilin. Some Chinese newspapers have successfully turned themselves into market-driven operations. [newsphoto.com.cn]
Resistance takes many forms. Liu reveals that some local papers do not even have the proper operating permits, but they get the funding anyway. "How can you cut something that technically does not exist?" As for banning the annual subscription meetings, some say this is the easiest obstacle to circumvent. "We just won't call it a 'subscription meeting' anymore. We can call it anything we want," says a local publisher.
New leaf
If these titles do strike out on their own, not only will they have to find a way to appeal to the market, but their staff will have to give up their equivalent of civil servant functions. Such adjustments will help make news teams more professional and less bureaucratic, says Cao Peng.
Some experts say that, for all the radical changes it is supposed to effect, the new regulation is quite sensible and measured. For example, all science and technical journals have been spared, as have titles published in ethnic languages. Perhaps most importantly, five major titles are exempt from market whims in each locality: the People's Daily and Qiushi, or Seeking Truth, a magazine produced by the central government, another newspaper title and magazine title from each province, and one additional newspaper title from each city. The Party and the government are ensured a voice, which will be more efficiently focused after consolidation takes place, said one commentator.
Most media organizations targeted for elimination declined requests for interviews. The issue is too sensitive, they said, and why are you media people so excited about this? It seems it may take a shake-up from the top level for them to realize that they are actually part of the media industry, too, at least for the time being.