Slain Iraq cleric to be buried, cabinet begins work
( 2003-09-02 09:21) (Agencies)
The burial of a top Shi'ite Muslim cleric killed in a car bomb attack takes place on Tuesday as a 25-member cabinet appointed by the U.S.-backed Iraqi Governing Council is sworn in.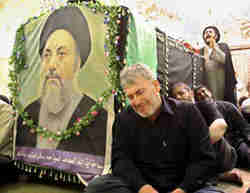 Iraqis cry as they sit by the coffin of leading moderate Muslim Shi'ite cleric Ayatollah Mohammad Baqer al-Hakim as a eulogy is given by a preacher at the Mosque of Imam al-Hussein in Karbala Aug 31, 2003. [Reuters]

Ayatollah Mohammed Baqer al-Hakim will be buried in the holy city of Najaf where he and more than 80 others were killed in the deadliest attack in Iraq since Saddam Hussein was toppled by U.S.-led forces on April 9.

An audio tape purportedly from Saddam denied he had any part in the bombing, which sent shockwaves through Iraq's Shi'ite majority -- many of whom blamed supporters of the former president for the attack.

The taped message, aired by Arabic television channels, called on Iraqis to step up attacks on U.S.-led forces.

"great heroes, intensify your brave blows against the foreign aggressors from wherever they come and whatever their nationalities," the voice said.

Shi'ites, long oppressed by Saddam, a Sunni Muslim, flocked on Monday to shrines south of Baghdad on the second day of funeral rites for Hakim, who advocated cooperation with the U.S.-led occupation.

Hakim, whose brother sits on the Governing Council, led one of Iraq's most prominent Shi'ite groups, the Supreme Council for the Islamic Revolution in Iraq.

Najaf's governor Haidar al-Mayyali has announced the arrests of up to five suspects he said were linked to Saddam's government.

The U.S. military said FBI agents were heading to Najaf, some 100 miles south of Baghdad, to help investigate the bombing at the city's Imam Ali mosque -- one of the holiest sites in Shi'ite Islam.

U.S. officials blame attacks on occupying troops and other targets on supporters of Saddam, still on the run nearly five months after he was deposed. But they have also made increasing mention of the presence of al Qaeda and other foreign fighters.

HOPE AND ANGER

In Beirut, the leader of Lebanon's Hizbollah guerrilla group told about 3,000 Shi'ites mourning the death of Hakim that the United States and Israel had most to gain from the killing.

"The Americans do not want a state in Iraq, they want a splintered Iraq and the Israelis want to crush Iraq," said Sheikh Hassan Nasrallah. He stopped short of blaming the United States or Israel for Hakim's killing.

Washington sees the Governing Council and its cabinet as the first steps toward its goal of transforming Iraq into a peaceful democracy, but many Iraqis have voiced anger about what they view as the occupiers' failure to provide security.

The Governing Council named the cabinet of 25 ministers, most of them little-known, saying they represented the will of Iraq. But overall authority will remain with U.S. governor Paul Bremer until an elected government is installed.

A spokesman for Iraq's U.S.-led administration said the appointment of ministers "represents a significant new step in Iraqis taking control of government and institutions of government."

The new ministers will oversee the day-to-day running of their departments while major policy decisions will be taken in consultation with the U.S.-led authority and the Governing Council. There is no prime minister.

The ministers comprise 13 Shi'ites, five Sunnis, five Kurds, one Turkmen and one Christian -- reflecting the sectarian and ethnic mix of Iraq and the Governing Council.

Ibrahim Bahr al-Uloum, a Shi'ite, was given the key role of oil minister, overseeing the rebuilding of a dilapidated and war-damaged industry, Iraq's only significant source of export revenue.

Kurdish official Hoshyar Zebari was named foreign minister, former exile and U.S. ally Nouri Badran was made interior minister and Kamel al-Keylani was appointed finance minister.

The attack that killed Hakim has intensified international debate on stabilizing Iraq, where bombings have hit the U.N. headquarters and Jordanian embassy in Baghdad in recent weeks.

Sixty-five U.S. and 11 British soldiers have been killed by hostile fire since President Bush declared major combat over on May 1.

The violence and the cost of occupation is putting pressure on Bush, who faces a campaign to win re-election next year. Opinion polls show growing unease about troop deaths in Iraq, but that support for the mission remains firm.