China beat South Africa 2-0 in soccer friendly
( 2003-09-02 08:48) (Xinhua)
The Chinese Under-23 Olympic team defeated its South Africa peers 2-0 in a soccer international friendly in Southwestern Yunnan Province Monday evening.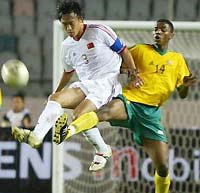 Skipper Du Wei[L] clears the ball.

In the 13th minute, striker Yu Tao pierced into the penalty box for the opener and substitute Wu Pingfeng exploited his speed and wrongfooted South African goalkeeper to seal the victory.

Three days later, the Chinese squad will play their next counterparts from Uruguay.

"Our team has improved in both individual defense and team work, and made less errors in our attacks, but we still have space to tune up for the Olympic qualifying tournament when we face Syria on September 10," said Chinese head coach Shen Xiangfu.