Flood forces 100,000 to evacuate
( 2003-09-02 07:12) (China Daily)
The second flood crest on the Weihe River, a tributary of the Yellow River, arrived at Huaxian County in Northwest China's Shaanxi Province yesterday, forcing the evacuation of over 100,000 residents from the threatened areas.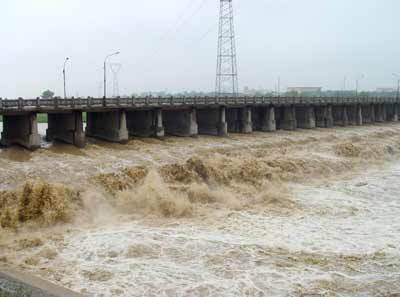 The embankments had been soaked by the first flood crest long before the arrival of the second crest travelling at speeds surpassing the recorded high, according to local flood control departments.
The Shaanxi Provincial Flood Control and Drought Relief Headquarters has allocated 20 rubber boats and 1,000 life jackets to the counties along the river. Residents were evacuated from the threatened areas on Sunday morning.
Between August 24 until early yesterday morning all of Shaanxi's 108 counties and districts were hit continuously by heavy rain, with 58 counties facing precipitation of over 100 millimetres, according to the headquarters.
"The heavy rain was mainly concentrated in southern parts of northern Shaanxi, northern parts of central Shaanxi and central and western parts of southern Shaanxi. Southern Ningshaan county which suffered the worst flooding had a precipitation of 357 millimetres," the headquarters said.
The continuous heavy rain caused flooding in 50 rivers in the province and some 40 per cent of its reservoirs are overfilled, with nine reservoirs now discharging flood water, flood headquarters reported.
According to the initial statistics, 37 counties and districts in Shaanxi, and 300 townships have been hit by floods since August 24, and some 1.56 million people are suffering from the disaster.
"The flooding and landslides caused by heavy rain have destroyed 16,400 houses, 49,000 hectares of farmland and a large number of roads, telecommunications facilities, power and water supplies and water conservancy projects. Direct economic losses have reached 2 billion yuan (US$240 million)," according to flood headquarters.