Myanmar denies opposition leader staging hunger strike
( 2003-09-01 16:15) (Agencies)
Myanmar's military government on Monday brushed off U.S. assertions that detained opposition leader Aung San Suu Kyi had started a hunger strike and her own supporters also said they could not confirm the report.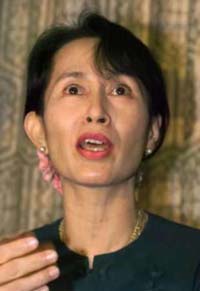 Nobel Peace laureate Aung San Suu Kyi, the leader of the National League for Democracy (NLD) speaks at a press conference in Yangon Feb 25, 1999 in this file photo. The U.S. State Department said on Sunday Suu Kyi, Myanmar's pro-democracy leader, had gone on a hunger strike to protest her detention by the country's military rulers. [Reuters]

The State Department said on Sunday that Suu Kyi -- who has been in detention for three months -- was fasting to protest against her confinement and that Washington was deeply concerned for her welfare.

While Myanmar did not specifically deny the U.S. hunger strike charge, the government said it was "confused" by it.

"We firmly believe it quite odd for the United States State Department to make such a claim without stating any sources to verify its allegation," the government said in a statement.

A senior member of Suu Kyi's National League for Democracy (NLD) could not confirm the U.S. assertion.

"We have learned this news from the international media and we are really concerned about her health, but we still cannot confirm whether it is true or not," he told Reuters.

Washington's hunger strike statement came a day after new Myanmar Prime Minister Khin Nyunt promised a "road map to democracy" in a speech delivered three months after Suu Kyi was detained.

"The United States has learned that Burma's pro-democracy leader Aung San Suu Kyi is on a hunger strike to protest her illegal detention by that country's military regime," Sunday's State Department statement said.

"We are deeply concerned for her safety and well-being."

Suu Kyi, a Nobel Peace Prize laureate, was detained on May 30 with dozens of supporters after a clash between her backers and pro-government youths.

The government says she is being held for her own protection and will not say where she is. It says she will be freed when the political temperature cools.

In his "road map" speech to high-ranking government officials on Saturday, Khin Nyunt mentioned Suu Kyi only once -- and that was while criticizing the opposition she leads.

ROAD MAP A PLOY?

Witnesses quoted Khin Nyunt as saying the first step would be a resumption of a National Convention on producing a new constitution with the same participants as before it was suspended in 1996 following an NLD walkout.

He gave no time frame, but a senior military official said the conference would resume "as soon as possible" -- although critics remain skeptical.

Exiled opposition groups said the road map was a ploy to ease mounting international pressure on the regime.

"If the new proposed plan is accepted at par value, it will be tantamount to wholesale legitimization of military oppression, massacre and prolong military rule," the National Coalition Government of the Union of Burma said in a statement.

Since Suu Kyi's latest detention, the military government has come under increasing pressure to free her and make discernable moves toward democracy.

The United States and the European Union have imposed tougher sanctions on the impoverished country while key donor Japan has frozen new aid.

Washington's sanctions, which took effect on August 28 and closed the U.S. market to imports from Myanmar, have forced many textile factories to close, leaving tens of thousands jobless.