Human-smuggling suspects caught
( 2003-09-01 07:03) (China Daily)
A total of 13 suspected human smugglers involved in the Taiwan Straits human trafficking case that saw the death of six mainland women on August 26 were caught in East China's Fujian Province as of last Saturday.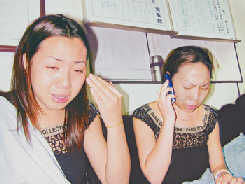 Two Chinese mainland stowaways weep after being arrested by the Taiwan Coast Guard at Taichung harbour August 26, 2003. At least six illegal mainland immigrants drowned at sea off Taiwan after human smugglers threw them and 15 others overboard to lighten their load so they could speed away from authorities. [HK Edition]

"Some of the 13 have been confirmed to have been directly involved in the smuggling of 26 mainland women to Taiwan last Tuesday,'' said Wang Bing, vice-director of the provincial Public Security and Border Defence Bureau.

According to Wang, the 13 suspects, including four Taiwanese, were arrested in the cities of Fuzhou and Putian while they were allegedly organizing the smuggling of a new group of five mainland women to Taiwan.

The five women were also detained along with the suspected traffickers.

Wang said that by analyzing information collected from TV broadcasts, the Internet and other channels, which he refused to make public, the Fujian police traced and arrested several members said to belong to the human trafficking gang that threw 26 mainland women into the sea to avoid getting caught by Taiwan patrol guards, who were approaching to make an on-board inspection of their vessel near Tunghsiao, on the island.

"Given the fact that cross-Straits human trafficking gangs, with most of their principals being Taiwanese, collaborate closely in transporting mainlanders to the island, it is a very difficult task to catch all the smugglers involved in the case in a short time.

But the police will take every measure possible to bring all those involved to justice'' said Wang.

Wang said that it is still unclear how the 26 women were inveigled into the attempt and smuggled to Taiwan, and police both on the mainland and in Taiwan are still investigating the case.

The Taiwan-based Straits Exchange Foundation (SEF) issued information on the six drowned women last Friday.

According to SEF, four victims are Fujian natives.

However, the Fujian police said that the four women are not registered residents of the province, according to Wang.

"The human traffickers continue their criminal activities even after the tragedy on August 26,'' Wang said.

The five newly caught mainland women are from different areas of the country.