Nation plans eradication of poverty
( 2003-08-30 06:54) (China Daily)
By the year 2010, the central government plans to have completed its envisioned goal of improving the lives of about 28 million rural people who currently live in extreme poverty, without adequate food or clothing, said a senior State Council official.
"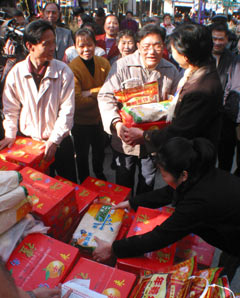 Poor local residents receive food from the staff of a supermarket

Those living in absolute poverty shall be the first to be helped," said Gao Hongbin, vice-chairman of the State Council Leading Group for Poverty Reduction and Development.

Speaking at a national conference on poverty held on Thursday in Kunming, capital of Yunnan Province, Gao said that most of the needy people live in ethnic minority areas, old revolutionary base areas, border areas and destitute areas in the central and western regions of China.

About 7 million of them are still living in areas that are unsuitable for human settlement, and they need to be moved, said Gao.

In the past decade, more than 2.7 million people moved to new areas under a government resettlement programme, and over 90 per cent of them described their new life as "satisfactory," according to the official.

Relocation will be on a "voluntary" basis, Gao said, adding that the government will provide people making such moves with necessary assistance in building new homes and finding new sources of income.

Resettlement of each rural resident costs 5,000-10,000 yuan (US$602-US$1,204), and the government plans to spend 3-5 billion yuan (US$361-602 million) in the process.

China still has a lot of hard work to do to ensure that people who live in poor areas can enjoy comfortable and reasonably well-off lives, said Gao.

Weak infrastructure, a fast-growing population, poor natural conditions and inadequate poverty relief are all factors which have impeded progress in raising living standards in the world's most populous country.

Apart from the 28 million people in absolute poverty, the government should help the 60 million who are just above the poverty line to improve their living conditions as well, said Gao.

"They are also a major concern of mine," said Jiang Zhongyi, senior researcher with the Research Centre for the Rural Economy under the Ministry of Agriculture.

"Because their production levels and living conditions have not basically changed, and they are not strong enough to fight natural calamities by themselves, these people easily sink back into poverty if they are caught in natural disasters," said Jiang.

Since 1986, China's banks have extended special loans of up to 125 billion yuan (US$15 billion) to poor farmers.

The World Bank's criterion for absolute poverty is a per-capita daily consumption of US$1 or less.