Residents can take out more forex
( 2003-08-30 06:54) (China Daily)
China raised the amount of foreign currency that can be carried across its borders on Friday, which analysts said was a step towards a more flexible, market-based mechanism in determining the exchange rate of the local currency, the renminbi.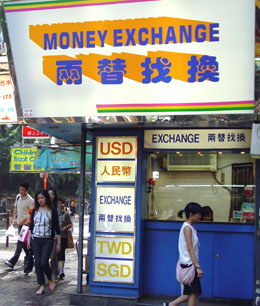 Money exchange shop in Hong Kong

The State Administration of Foreign Exchange (SAFE) and the General Administration of Customs issued a tentative regulation jointly, allowing residents to carry foreign currencies equivalent up to US$5,000 in and out of China without reporting requirements, instead of US$2,000 as was the case previously.

For amounts between US$5,000 and US$10,000, residents need to apply for certificates from either banks or the SAFE, both under the old and new regulations. Amounts above US$10,000 are forbidden.

The regulation takes effect on Monday.

Wang Yuanhong, a senior analyst with the State Information Centre, said such a move, which caters to the growing personal demand for foreign exchange of funds, was in the direction of determining the renminbi's exchange rate through supply and demand.

"It is a loosening in foreign exchange controls,'' Wang said. "At the same time, it is a step closer to creating a renminbi exchange rate forming mechanism that is more flexible and more determined by supply and demand.''

"It's a step in the right direction, but it's a small step,'' he added.

The renminbi is pegged to the US dollar and floats in a narrow range enforced by China's central bank. But some of China's trading partners have complained the yuan is unfairly undervalued. The Chinese Government has said it would not let its currency appreciate, this year at least, but would improve the mechanism that determines the renminbi's exchange rate.

For years, China imposed strict controls on forex as a scarce resource. The situation has changed over recent years when its forex reserves soared largely upon growing trade surpluses. Excess dollars, in recent months, have been putting upward pressure on the yuan and have led to unwanted increases in China's money supply.