US says "no intention" to attack N. Korea
( 2003-08-29 15:49) (Xinhua and Agencies)
The United States, pushing North Korea to end its nuclear program, has ``no intention'' of invading the nation or seeking to overthrow its leader, China's vice foreign minister said Friday after six-country talks on the nuclear stalemate.

China's Deputy Foreign Minister Wang Yi speaks during a news conference after the six-party talks on North Korea's nuclear programme ended in Beijing August 29, 2003. [Xinhua]
``The U.S. said that the U.S. had no intention to threaten North Korea, no intention to invade North Korea, no intention to work for regime change in North Korea,'' Vice Foreign Minister Wang Yi said at a news conference.
Meanwhile, Wang said that North Korea also indicated during the three-day talks that it is willing to give up its nuclear plans.
North Korea is willing to peacefully coexist with the United States as long as the US side changes its policy towards the country and stops threatening it, stressed Wang.
Wang also said that all participants agreed on the need for a nuclear-free Korean Peninsula and ``to address the wide-ranging security concerns of North Korea.''
He added: ``The parties agreed not to take any actions that will escalate the situation as long as discussions proceed.''
That reference comes a day after the North said it would prove it had nuclear devices by testing one and by formally declaring itself as a nuclear power, according to a U.S. official who spoke on condition of anonymity.
Delegates from six nations - North Korea, South Korea, the United States, China, Russia and Japan - concluded three days of talks about Pyongyang's nuclear program earlier Friday.


Representatives from nations attending the six-way talks in Beijing and China's State Councillor (6-L) meet in Beijing August 29, 2003. [Reuters]
After China's decision to host the event, the North agreed to the six-way talks that Washington had been insisting upon. Pyongyang had wanted talks to include only itself and Washington.
Wang said he was encouraged by the overall outcome of the meeting.
``The basic stance was positive,'' he said. ``As long as both parties have political will and sincerity, I believe these issues can be resolved. What is important is to maintain this momentum of dialogue that has not come easily.''
But, he acknowledged, ``The differences between the two sides are comprehensive. North Korea says the United States poses a great threat. The United States has its own views.''
The United States demands that North Korea cease its nuclear ambitions immediately. Pyongyang has indicated it could be open to such an action - but only after the Americans sign a nonaggression treaty and offer aid to the North's impoverished economy.
N.Korea: U.S. Proposals 'Beyond Tolerance'
North Korea said Friday U.S. proposals at six-way talks on Pyongyang's nuclear ambitions had been beyond tolerance, jeopardized follow-up talks and showed Washington wanted to invade after disarming the country.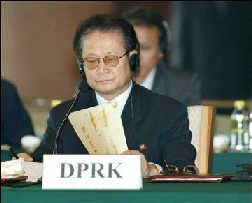 North Korean delegation head Kim Yong-Il looks over his notes during multilateral talks on the North Korean nuclear crisis in Beijing's Diaoyutai State Guesthouse. Six-nation talks on the North Korean nuclear crisis ended in Beijing Friday. [AP Photo]
The official KCNA news agency, summing up Pyongyang's line and its delegate's speech at the three-day Beijing talks, said the North had hoped to express the will to scrap its nuclear program in return for Washington changing its tune.
"By flatly refusing to exchange even words expressing the will to make a policy switchover, the United States put the prospect of the next talks at peril," it said.
KCNA'S long account was the first public word from North Korea on the talks, which ended with an agreement to meet again, possibly in October in Beijing. The KCNA report was issued in Korean before the talks ended.
While the tone from the North was softer just before the talks began, in the past such harsh rhetoric has sometimes been a prelude to a slight shift in policy and has often been a negotiating tactic.
Washington, which says Pyongyang may already have one or two nuclear weapons, was looking for a commitment that North Korea will scrap its program before making any concessions. North Korea wants security guarantees before dismantling.
North Korea spelled out demands and proposals it made to the United States at the talks, also attended by China, Japan, Russia and South Korea.
"We can dismantle our nuclear program if the U.S. makes a switchover in its hostile policy toward us and does not pose any threat to us," said Kim Yong-il, the head of the North Korean delegation.
"BRIGANDISH-LIKE DEMAND"
"If the United States continues to demand we drop the nuclear program first and ignores our appropriate proposals, we have no choice but to beef up our nuclear deterrent power," Kim said in a Korean-language version of the speech.
Kim said the North had proposed the United States resume fuel supplies and expand humanitarian food aid, sign a non-aggression pact, complete building nuclear reactors and establish diplomatic ties in return for the North scrapping its nuclear program, allowing inspections, dismantling nuclear sites and stopping missile exports. "The denuclearization of the Korean peninsula is the general goal of the DPRK (Democratic People's Republic of Korea, also known as North Korea)," Kim said.
KCNA said there was broad agreement on a non-nuclear North Korea but the U.S. team had rejected the North's proposal. It added: "In the final analysis, the U.S. would move only after the DPRK is completely disarmed."
This was illogical and raised questions about U.S. motives, KCNA said.
"The DPRK cannot interpret this otherwise than a U.S. intention to invade it after it is disarmed," KCNA said. "It is a brigandish-like demand beyond the tolerance limit."
Yu Suk-ryul, a professor at the Institute of Foreign Affairs and National Security in Seoul, said the mood was better than expected.
"It has at least showed a possibility of conversation between the United States and North Korea,." he said. "The U.S.'s strong stance should not be viewed as them sticking their noses in the air and turning their backs, but as another strategy to get the North Koreans to start talking."
He said North Korea's stance followed a known pattern -- hardline at the start but more willing to negotiate in the end.
The South Korean Foreign Ministry said Foreign Minister Yoon Young-kwan would visit the United States next week for scheduled talks with Secretary of State Colin Powell and other Bush administration officials on follow-up measures.