Six-party talks end, new round planned
( 2003-08-29 14:09) (Agencies)
The Beijing six-party talks to try to end the North Korea nuclear standoff concluded in Beijing Friday, with all agreeing to meet again within months.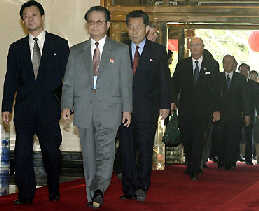 Kim Yong-il, North Korea's Deputy Foreign Minister, (2-L) lead other heads of delegations to a meeting with Chinese State Councillor Tang Jiaxuan in Beijing August 29, 2003. The six-party talks concluded in Beijing Friday, with all agreed to meet again within months. [Reuters]
All six parties to the Beijing six-party talks on Korean nuclear issue pledged to study the propositions and plans put forward during the talks and maintain consultations to expand common ground, said sources with the Chinese delegation Friday.
In a tried and tested proposal, North Korea's KCNA news agency said Pyongyang had suggested dismantling its nuclear program in return for a non-aggression treaty with the United States.
U.S. Assistant Secretary of State James Kelly kept his cards close to his chest but gave no indication of a shift and diplomats said the discussions were an opportunity for all sides to lay out their positions and not a forum for negotiation.
The only result came when host China said all six countries -- the two Koreas, Japan, Russia, the United States and China -- were in agreement to work toward a Korean peninsula free of nuclear arms and would meet again within two months.
Host Beijing, keen to be midwife to some form of result from the highest-level talks since the nuclear standoff erupted 10 months ago, said all sides "explained their principled stands and proposals on resolving the Korean nuclear issue."
"They also 'frankly' exchanged views," the Xinhua news agency said in a brief dispatch.
The crisis may require many more rounds of talks because the United States, which says Pyongyang may already have one or two nuclear weapons, is looking for a commitment that North Korea will scrap its program before making any concessions.
NORTH KOREA REPEATS TERMS
North's junior deputy foreign minister, Kim Yong-il, said on the second day that Pyongyang may carry out a test and could declare itself a nuclear power, according to U.S. officials.
North Korea stood firm, reiterating that it would not build nuclear arms only in return for a non-aggression treaty with the United States.
"We can give up the nuclear program if the United States drops its hostile policy toward North Korea," Kim Yong-il said in a speech released by the North's official KCNA news agency.
"If the United States continues to demand we drop the nuclear program first and ignores our appropriate proposals, we have no choice but to beef up our nuclear deterrent power," Kim said.
North Korea wants a package including a non-aggression treaty, diplomatic relations with the United States, KCNA said.
"In return, the DPRK will not manufacture nuclear weapons and allow in inspection, realize the ultimate dismantlement of nuclear facilities and stop the export and experiment of missiles," it said.
The agreement on more talks can be seen as a success after the three days of talks. Negotiations involving China, the United States and North Korea broke up amid anger last April.
The United States says Pyongyang has one or two nuclear weapons and is nearing the capability to produce more.
Such a development would destabilize Northeast Asia, possibly prompt an arms race.
North Korea, which U.S. President Bush has named part of an "axis of evil" with pre-war Iraq and Iran, maintains it has a right to a nuclear deterrent to fend off "U.S. hostility".