Beggars are more brazen on the streets
( 2003-08-29 10:43) (China Daily)
Wang Lin remembers well the last time she was confronted by a beggar.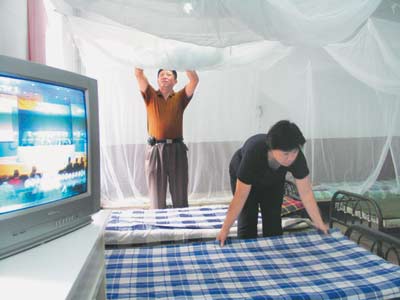 Staff prepare a remodelled shelter in Jinan. Experts warn that unreasonably heavy expenses on a shelter could turn it into a bed of lazy bones. [newsphoto.com.cn]
Riding the Beijing subway, the Bank of China employee had to face not only the pitiful pleading of the little boy but also the curious stares of her fellow passengers.
"Much more embarrassing for me was that all the eyes in the carriage looked at me and the beggar," Wang recalled. "I saw some of them smiling at me, interested to see how I would deal with the problem."
Aside from a credit card, Wang had no cash with her that day.
"The boy first called me sister, then mother, then grandmother and then great goddess. When he failed to get what he wanted from me, he scratched at my knee in exasperation and went away to the next person," she said.
Wang believes that since the new regulation offering free aid and shelter for the homeless and beggars was introduced, she has found more beggars in subways, underground passages, overpasses and on busy business street. Many other Beijingers agree with Wang.
People once forced to beg in confined, hidden spaces now feel they are free to do so more openly.
An end to the common practice in Beijing of collecting street tramps - defined as those "who are without legal papers, nor a normal dwelling place, nor a normal means of support" - has made many Beijiners uneasy about the potential for crime among such people.
Experts on civil affairs say that it is understable because it takes time for people to see the positive side the new policy.
On the other hand, experts also worry that local governments are building modern, luxurious shelter for homeless and beggars.
"You know China's welfare system can only cover urban citizens," said Zhou Hanhua, a professor of the Chinese Academy of Social Science. "The good condition of the shelters will attract more vagrants and poor people."
"There are lots of laid-off people in China who only get 200 yuan (US$25) to 300 yuan (US$38) subsidy every month. They have to use the money to support their family," Zhou said. "What will they think of the well-equipped homeless shelters?"
According to a report on CCTV, the local government of Shenzhen has built a shelter with a 34-inch colour TV, fitness facilities, table tennis, reading room and even dancing and song hall. Reports say the initial phase of the shelter cost 3 million yuan (US$380,000).
"We do not hope the shelter for the homeless will become a club for lazy bones," Zhou said.