Schools for forging scandal
( 2003-08-29 10:05) (Shanghai Star)
The renowned novel "Besieged Fortress" by Qian Zhongshu has created a popular name for fake diplomas - "Kleiton University".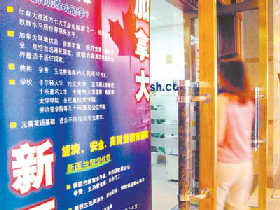 A billboard promoting overseas study opportunities covers the wall of the entrance to a local overseas study service agency. [Shanghai Star]
The hero, Fang Hongjian, goes to Europe for study but fails to get a diploma. To gain fame, he buys a fake diploma from the non-existent "American Kleiton University" before coming back to China.
However, such diplomas issued by foreign universities have attracted quite a lot Chinese who are eager to seem to have a better education background.
In China, the Overseas Study Service Centre under the Ministry of Education is the only official organization to authenticate the degrees of foreign universities. However, according to Shao Wei, vice director of the centre, between 25 and 30 per cent of foreign degrees fail to be authenticated for various reasons every year.
Some proposers use fake degrees provided by non-existent universities; some hold valid degrees but they never studied at the universities. More people go to foreign universities or educational institutes through education agents, but they do not finish their studies or their thesis, so their study results can't be proved by formal report cards.
"I don't care about the quality of the foreign university because the master's degree is just an advantage used to gain a promotion. Actually, I did not have time to finish my MBA courses," said a man surnamed Hao, department manager in a local manufacturing company. Hao attended fewer than one quarter of the courses in Shanghai but he successfully acquired an MBA degree issued by a Sino-American education institute.
In renowned universities such as the China Europe International Business School, Fudan University and Jiaotong University, tuition fees for an MBA programme are about 100,000 yuan (US$12,063) and an EMBA programme costs about 200,000 yuan (US$24,125). But insiders say that tuition is much cheaper, say less than 40,000 yuan (US$4,825), at less reputable schools.
Besides the expensive tuition, the prestigious universities are very demanding about students' qualifications and their educational background and working experience will be evaluated through several processes.
"Too many students want to study in our school, so the elimination rate is quite high. Take the MBA programme jointly run with Hong Kong University: 40 per cent of candidates were eliminated during the last interview process this year," said Xu Huifeng at the Management School at Fudan University.
The expensive tuition and strict recruitment requirements placed on candidates who want to enter reputable educational institutions leave space for fake or dodgy diploma providers.
When China Daily spoke to a local education agent who advertises as being able to provide MBA degrees from an Australian university and a Singapore university, the agent said that almost all college graduates with three years working experience can be admitted if they paid the tuition fees.
"The MBA programme used to be in co-operation with a university in Beijing and a lot of officials and employees in renowned companies are its graduates. Due to high cost, the programme was shifted to Singapore," said one of the agent's staff surnamed Zhang.
In another local international talent institute providing foreign MBA, DBA and BBA degrees, the staff promised to issue an Irish MBA degree by the end of next year although it has recruited fewer than 10 students right now.
"You just pay the money and everything will be OK," said a staff member, surnamed Su.
But such poor-quality and fake degrees have now raised public awareness and such fake educational background can be recognized.
"We are very careful to evaluate the candidates when they say they hold diplomas or degrees from infamous foreign universities for we know they may be fakes," said Anthony Chong, HR director of Delphi Automotive Systems Inc.
Besides consulting embassies and consulates in China, companies with wide human resources experience will also call universities to confirm the qualifications of applicants for jobs.
To better regulate the chaotic education market, the Ministry of Education is setting up a centre to authenticate foreign educational institutions.