Power outage causes mess on London trains
( 2003-08-29 08:57) (Agencies)
Power went out in parts of the capital and southeast England on Thursday, bringing much of the London Underground and many regional trains to a halt and stranding hundreds of thousands of rush hour commuters.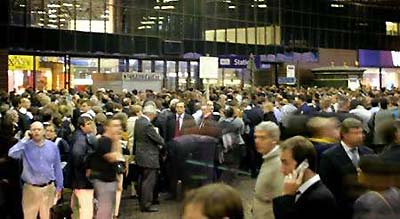 Commuters gather at London Bridge Station in central London during a power outage, Aug 28, 2003. A half-hour power cut paralyzed London with up to half a million commuters trapped in travel chaos that hit the evening rush hour. [Reuters]

Electricity was cut for about 40 minutes before it came back on at about 7 p.m., said EDF Energy, which handles power transmission for the affected areas of London. The outages appeared to be confined to south London and Kent, a county southeast of the city.

Overland train service was temporarily halted in those areas and trains were canceled and delayed throughout the evening. Problems on London's aging subway system were also widespread and long-lasting.

A spokesman for the Underground said 60 percent of the subway system was halted at the height of the evening rush hour, including the majority of services in central London. Workers evacuated affected trains and stations but it would take "some time" to return service to normal, London Underground said. Some subways began running later in the evening.

At London's Victoria Station, boards listing train schedules went blank and people stood outside in the rain waiting for the gated-off subway entrances to reopen. Others squeezed onto jammed double-decker buses.

London Mayor Ken Livingstone told Sky News about 500,000 commuters were affected on the Underground and on train lines.

He also told Channel 4 News that up to 150,000 people lost power, and he demanded an investigation. Some hospitals were forced to rely on backup generators.

"There's no indication of any terrorist involvement, but it is an absolutely horrendous position because it has caught the rush hour," he said.

The outage was far less severe than the Aug. 14 blackout in the United States and Canada, which affected 50 million people.

Jenny White, 20, was stuck outside Victoria station in south London, trying to get home to Longfield, Kent.

"I've been here for ages now," she said. "The queue for the cabs is about a mile long and there's nowhere I can get a bus, there are so many people out there."

Area pubs were packed with stranded commuters.

"It's quite amazing that a big city like London can be brought to a standstill like this," teacher Valerie Chalancon said.

EDF spokesman Gareth Wynn said the power problem originated in two high-voltage lines belonging to the national power grid that help supply the Wimbledon area of southwest London.

It was unlikely the problem was caused by sabotage, he said.

Ann Gibson of National Grid, which runs the national power network, said electricity was restored to the lines where the problem began.

British Transport Police said the outage affected all of south London's major overland train stations ¡ª including Victoria, London Bridge and Waterloo ¡ª and temporarily halted all main lines in the area.

"Things are now starting to move slowly," a spokesman said.

Kevin Groves, a spokesman for Network Rail, which operates Britain's rail infrastructure, said power was cut along tracks stretching 20-30 miles south of London.

The police were contacting London Underground to make sure there were no people on the tracks before reactivating the lines.

London's Metropolitan Police said 270 sets of traffic lights went out around south London, but all came back on.