Campus security in the spotlight
( 2003-08-28 09:54) (China Daily HK Edition)
Two recent incidents in Fujian Province have put the housing security situation on Chinese campuses in a new light.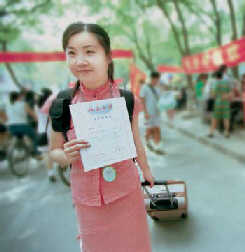 A freshman arrives at Peking University, where she will spend four years, holding the school's enrollment notice. [HK Edition]
On August 5, a girl at Xiamen University was killed by a man in a rape attempt. Barely a week later, a female postgraduate student at Fuzhou University was killed in her dorm by a knife-wielding former boyfriend who later committed suicide.
But, it's not only these extreme incidents that have led to complaints about dorm security.
Sun Wei, a Beijing student, says she has grown increasingly sceptical about security in her dorm.
Sun's six-storey on-campus dorm houses nearly 200 students. But, there are "only three middle-aged uneducated female resident assistants and no security personnel."
That means no secure entry controls: "Sometimes, you can see boys slipping into the building and hurriedly rushing to their girlfriends' rooms. There are always thefts. Any stranger who looks like a student can easily get in to sell gadgets and hand out leaflets."
In spite of the lack of controls, many students are not very alert or careful. This provides even greater opportunities for theft and sexual assault.
"Sometimes my roommate just leaves the dorm with the door wide open and the laptop on his desk," complains Wang Liyi, a sophomore at Sichuan University.
The Tsinghua University website recorded more than 20 instances of theft in campus dorms in 2000. One residence hall was burgled twice in one month, with losses of at least 1,000 yuan (US$120).
Naturally, these problems have caused concern in many universities and colleges, where they are trying to provide a safer, more secure housing environment for students.
According to Wang Yinghui, who is in charge of dorms at Tsinghua University, from next month, anyone wanting to enter a dorm at Tsinghua will need an identification card. Access to residence halls will be restricted to students, escorted guests and authorized college personnel. A Residence Hall Director (HD) who responds to problems in all the halls is on duty every night. Security personnel will also patrol many areas on campus.
To ensure housing safety in Shanghai, many universities have special procedures for dealing with lost room keys and accidentally being locked out.
Elsewhere, like at Zhengzhou Polytechnic Institute, security cameras have been installed in girls' dorms.
In the West, there have long been similar problems.
In the US and UK, students enter a dorm only with a student ID. Some also have cameras above the entry area and security guards who patrol the halls at night. Guests are often required to register at reception before entering.
Security Do's and Don'ts
1. Keep dorm doors locked when you're sleeping or out of the room even for only a minute.
2. Keep a list of emergency numbers at hand.
3. Don't let a strange caller know that you are in the room alone. Hang up immediately if there is an obscene call.
4. Don't leave valuables on a desk or in a visible place. Keep them locked up or in a safe place at all times.
5. If you see anyone behaving suspiciously, report it immediately to security or the police.