US, North Korea hold direct nuclear contact
( 2003-08-28 09:42) (Agencies)
Trading the cold shoulder for careful conversation, the United States and North Korea made their first direct contact in four months on Wednesday, huddling on the sidelines of a multinational summit to work through a venomous stalemate over Pyongyang's nuclear program.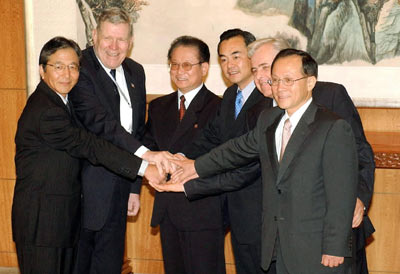 The heads of the delegations for the six-party talks in Beijing shake hands before the start of the three-day talks at the Diaoyutai State Guesthouse August 27, 2003. They are (left to right) Mitoji Yabunaka, director general of the Asian and Oceanian Affairs Bureau of Japan's Foreign Ministry; James Kelly, United States assistant secretary of state for East Asian and Pacific affairs; DPRK Deputy Foreign Minister Kim Yong-il; Chinese Vice-Foreign Minister Wang Yi; Russian Deputy Foreign Minister Alexander Losiukov and Lee Soo-hyuck, ROK deputy minister of foreign affairs and trade.[newsphoto.com.cn]
China, South Korea, Japan and Russia joined them in formal discussions, eager to apply delicate diplomacy to East Asia's most alarming security problem. Later, US Assistant Secretary of State James Kelly and North Korean Deputy Foreign Minister Kim Yong Il sat in chairs off to the side and conferred.
"The US side made comments about easing North Korea's security concerns," said Wie Sung-rak, director-general of the South Korean Foreign Ministry's North American Affairs Bureau. "From what North Koreans said during the meeting, we could read that North Korea is willing to resolve the nuclear issue through dialogue."
State Department spokesman Philip Reeker said the US-North Korea meeting lasted about 35 to 40 minutes, but he gave no other details.
White House spokeswoman Claire Buchan downplayed the fact that the United States and North Korea held direct talks.
"What we always indicated is that these will be multilateral discussions. But nothing precludes a conversation across the table between two parties," Buchan said. "But there are not separate, individual, bilateral discussions going on."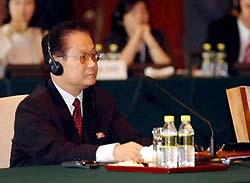 North Korean Deputy Foreign Minister Kim Yong Il listens during the six nation talks on North Korea's nuclear issue at Diaoyutai State Guesthouse in Beijing, China, Aug 27, 2003. [Xinhua]

The extraordinary three-day, six-country summit, the result of months of political maneuvering, convened on the grounds of China's state guest house.

The contact between the North Korean and American delegations ended a diplomatic drought between their two nations, whose envoys have not met formally since April.

Tensions and hostilities have been escalating since October, when Pyongyang acknowledged - to Kelly himself - that it restarted a nuclear program it had supposedly shut down. The United States has demanded that North Korea stop the program immediately, while the impoverished North has refused to budge without security and economic aid guarantees.

Both sides would benefit if a sturdy channel of communication were reestablished - even if it didn't lead to an immediate resolution of the nuclear dispute. Mere agreement this week to keep talking regularly would constitute some degree of success.

The six-party talks are a continuation of discussions from April, when U.S., Chinese and North Korean officials met in Beijing. The North's government had long demanded one-on-one talks with the United States, but dropped its objections to the multilateral arrangement after Beijing agreed to host it.

A congenial air prevailed as the six countries' chief envoys posed for cameras, shaking hands firmly and smiling broadly before adjourning to an chandelier-lit chamber and snapping to work around a specially assembled hexagon negotiating table.

At Wednesday's talks, the two countries remained firm in their positions, participants said. Shin Bong-kil, a spokesman for the South Korean delegation, said there were "no big deviations" from the expected agenda.

Later in the afternoon, after the official meeting ended for the day, Kelly, Kim and their delegations met informally, officials said.

"The bilateral contact between the United States and North Korea came naturally as part of sideline activities," Wie said.

Alexander Losyukov, the Russian deputy foreign minister and head of his country's delegation, told the ITAR-Tass news agency that he wouldn't necessarily predict immediate progress as a result of the meeting.

"The sides have advanced a number of preliminary conditions which block the development of the talks," Losyukov said without elaborating. He said North Korea declared it wishes to be nuclear-free but expressed concern about "menaces from the U.S."

Later, at a dinner hosted by Chinese Foreign Minister Li Zhaoxing, Kelly and Kim sat side by side and talked for an hour accompanied by translators, Shin said.

The U.S.-North Korean meeting came hours after Pyongyang repeated its demand for a non-aggression pact, saying it would not give up its "nuclear deterrent force" for anything less than that.

The United States should "clarify its will to make a switchover in its hostile policy toward (North Korea) and conclude a non-aggression treaty with it," Rodong Sinmun, the North's official newspaper, said in a commentary carried by KCNA, the North's official news agency.

U.S. officials say they believe North Korea has one or two nuclear weapons, and experts believe it could produce five to six more in a few months.

"The mistrust between the U.S. and North Korea will not disappear soon," said Li Dunqiu, secretary-general of the Chinese Society for the Study of Korean History. "But the coordination among the six parties will help in this regard."