Prudential, CITIC open joint venture in Beijing
( 2003-08-28 09:23) (China Daily)
British financial giant Prudential Plc yesterday expanded its joint venture life insurance business to Beijing, making it the first foreign insurer to get the green light to operate a life insurance joint venture in China's capital.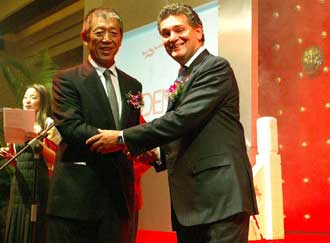 Striking a deal: Jonathan Bloomer (right), chief executive officer of British financial giant Prudential Plc, shakes hands with Wang Jun, chairman of the board of directors of China International Trust & Investment Corp (CITIC) at yesterday's announcement of the joint venture in China's capital. [newsphoto.com.cn]

The move also made it the first European insurer to get the nod to operate in Beijing, following the move by US-based America International Group (AIG), which launched its wholly-owned branch in the city earlier last year.

With a 50-50 stake owned by Prudential and its Chinese partner financial conglomerate giant CITIC (China International Trust & Investment Corp), the new branch will offer 24 different products, including participating products, healthcare, investment-linked products and accidental insurance products to local customers.

And the product portfolio will be available to corporate customers when the regulators lift its bans, which is scheduled to be next year but is expected to come ahead of schedule.

"The opening of the Beijing branch marks a strategic step forward towards achieving our goal in the China market, which is increasingly important to Prudential's global business," said Jonathan Bloomer, group chief executive of the company.

Apart from Guangzhou and Beijing, on the joint venture's blueprint is a more aggressive goal, which includes business expansion plans to all major cities in China's coastal areas.

"We are going to introduce our products to more major cities, such as Shenzhen, Foshan, Dongguan and Dalian, in the coming two to three years," said Dominic Leung, managing director of Prudential's China operations.

"Beijing, Shanghai and Guangzhou will be the three major business hubs for Prudential's future business expansion," Leung told reporters at the opening ceremony.

Launched in October 2000 in Guangzhou - capital of South China's Guangdong Province, CITIC Prudential became the first joint venture life insurer launched between Chinese and British partners.

With a total premium of 205 million yuan (US$24.75 million) in the first seven months of the year, CITIC Prudential become the fourth most rapidly growing life insurer, by taking about 14 per cent of the market share in Guangzhou.

Besides reinvesting its profits generated from local markets, Bloomer said the 150-plus-year-old company will invest an additional 100 million pounds (US$156 million) in Asia annually, where 41 per cent of its new business was generated last year and China became an increasingly important market segment for its business growth.

"New business achieved profits of 303 million pounds (US$473 million) in the first half of the year, down 18 per cent from 2002 year's end," said a corporate interim report released in mid July.