Blast in Fujian kills at least 22
( 2003-08-28 07:01) (China Daily)
A blast in a residential area in a village in East China's Fujian Province on Tuesday night claimed 22 lives, injured 30 and had left several others missing by press time yesterday.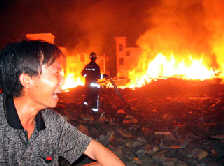 A local resident weeps as a firefighter tries to quell the fire.

The explosion, which occurred around 10:40 pm in Shadi Village, in Minhou County of the province, destroyed five residential buildings, while more than 20 other buildings suffered varying degrees of damage.

Villagers said that the explosion occurred in the residence of villager Zhao Guanding, who allegedly stored firecrackers inside the building secretly.

"We would not have allowed him to store the dangerous products in our village had we known,'' said one villager who gave only his surname Zhao.

It is still unclear where and how Zhao Guanding bought the firecrackers.

All the injured have been hospitalized, three of them are still in serious condition.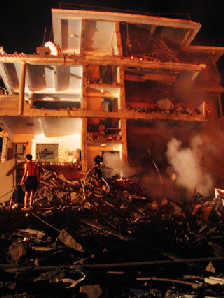 the wreckage of the blast
Rescue workers are still looking for other victims trapped in the rubble.
According to armed police among the rescue workers at the site, on receiving reports of the accident, armed police, firemen, police and traffic police from Minhou County and Fuzhou, capital city of Fuzhou Province, rushed to the site around 1:00 am.
The three injured that were taken to Fujian Provincial Hospital are all in stable condition.
Lin Zhuying was semi-conscious 10 hours after an operation on her injured left eye, in the provincial hospital.
"Since Lin's mother-in-law died and her husband and son suffered broken bones in the explosion, I was asked to come to look after her,'' said Lin's sister.
The blast was so powerful that residents in the downtown area of Fuzhou, some 15 kilometres away from the site, felt the ground shake.
Buildings along the main road, some 100 metres north of the explosion site, had all their windows broken and the aluminium window frames were destroyed as well.
"As far as I know, some 10 villagers and 14 to 15 workers from other cities died in the blast,'' said Zhao.
According to Zhao, his village has around 7,000 residents.
"The family of Zhao Yiqiang suffered the most, losing eight of its 12 members, including his wife, daughters and sons,'' said Zhao.
The family lives next to the residence where the blast occurred.
Currently, police are conducting an inquiry among Zhao Guanding's relatives who were guarding the residence when the blast occurred.
The police are still searching for Zhao Guanding.
The government is further investigating the cause of the blast.