North Korea demands nonaggression treaty
( 2003-08-27 16:05) (Agencies)
The United States, North Korea and four other nations began an extraordinary meeting Wednesday, working to resolve a dispute over the North's nuclear program even as Pyongyang repeated its demand for a nonaggression treaty from Washington.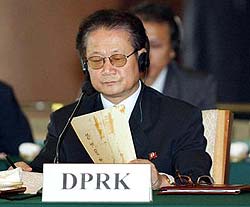 North Korean delegation head Kim Yong Il looks over his notes during multilateral talks on the North Korean nuclear crisis, Aug 27. 2003 in Beijing's Diaoyutai State Guesthouse. Representatives from six nations began their three-day talks Wednesday. [AP]

Around a vast hexagonal table behind the high brick walls of the state guest house of China, the host country and the North's only remaining major ally, diplomats from all six nations shook hands and got down to business.

"I am very happy the six countries are all here," Chinese Vice Foreign Minister Wang Yi told the assembled diplomats before the meeting was closed to reporters.

Russia, Japan and South Korea are also participating. All have a direct stake in both the region in general and the North's nuclear program in particular. China, the host country, called for a "calm and patient attitude" for the meetings.

The United States says North Korea must shut down its nuclear program immediately, while Pyongyang demands guarantees of security and economic aid. U.S. Assistant Secretary of State James Kelly and North Korean Deputy Foreign Minister Kim Yong Il were among those shaking hands before the talks began, and then their delegations were seated next to each other for the meeting.

As the talks began, North Korea repeated its demand for a nonaggression pact from the United States, saying it would not give up its "nuclear deterrent force" for anything less than that.

The United States should "clarify its will to make a switchover in its hostile policy toward the DPRK and conclude a nonaggression treaty with it," Rodong Sinmun, the North's official newspaper, said in a commentary carried by KCNA, the North's official news agency.

U.S. officials say they believe North Korea has one or two nuclear weapons, and experts believe it could produce five to six more in a few months. The North has withdrawn from key international agreements in recent months, including the Nuclear Nonproliferation Treaty.

In October, according to the United States, North Korea acknowledged a secret nuclear program, beginning the standoff and war of words that led to this week's talks. Bush already was wary of North Korea, calling it in a January 2002 speech part of an "axis of evil."

Pyongyang insists Washington must change its "hostile policy" for the talks to produce any results. Otherwise, it said last week, "We will never give up nuclear deterrent force and settle accounts with the aggressors."

Shin Bong-kil, spokesman for the South Korean delegation, said the morning session, which lasted almost five hours, proceeded in a "stable, quiet, smooth way." He said there were "no big deviations" from the expected agenda.

Both Kelly's and Kim's addresses, which talked about the history of the nuclear issue dividing them, lasted about an hour, Shin said.

The discussions are expected to continue until Friday as part of a process experts say may be long-drawn ¡ª but is heading in the right direction.

"The talks will lay the foundation for the next talks," said Li Dunqiu, secretary-general of the Chinese Society for the Study of Korean History.

"Mistrust between the two sides cannot be dispelled within a single negotiation. It takes time," Li said in an interview.

The participants' interests go beyond simply wanting to keep the isolated North Korea from becoming a nuclear threat. South Korea wants to clear an obstruction from its policy of reconciliation with Pyongyang. Japan seeks progress on the issue of Japanese citizens kidnapped by the North during the Cold War.

China hopes to avoid being dragged into a conflict between its longtime ally, North Korea, and a vital trading partner, the United States. The North, faced with economic collapse, wants security guarantees and more food and humanitarian aid.

"We welcome the multinational talks," said Claire Buchan, a spokeswoman for President Bush. "The president has always believed that this is a multilateral problem that requires a multilateral solution."

Meanwhile, a North Korean soldier fired a single shot at a South Korean guard post, breaking a window pane but causing no injuries, the office of South Korea's Joint Chiefs of Staff said. The North said it was an accident, according to the office.

The North Korean shot hit a South Korean post in the Demilitarized Zone that separates the two Koreas. Soon after, North Korean officials telephoned their Southern counterparts and said it was a misfire resulting from negligence and that that they had no "hostile intentions," the office said.

South Korean soldiers did not return fire.

On July 17, South and North Korean soldiers briefly traded machine-gun fire in the DMZ, a buffer created at the end of the 1950-53 Korean War to keep opposing armies apart.

Decades ago, shooting incidents were commonplace along the DMZ, but they have tapered off in recent years.