China relaxes trading rights controls
( 2003-08-27 11:37) (China Daily)
China is opening its trade sector further by lowering the threshold of its foreign trading rights and relax controls on right approval from September 1.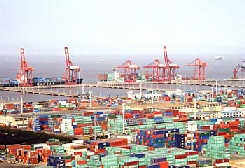 Ningbo port in East China's Zhejiang Province [newsphoto.com.cn/file]
A Ministry of Commerce official said yesterday the ministry will lower the capital demand for trading companies and offer an easier process for approval beginning next month.
The new regulation said the bottom line of registered capital for professional foreign trading companies will be lowered from 5 million yuan (US$604,000) to 1 million yuan (US$120,000).
And the amount for manufacturing companies who want to conduct foreign trade will be dropped to 50,000 yuan (US$6,040) from 3 million yuan (US$360,000).
These companies only need to get the nod from the provincial-level foreign trade departments or some city-level ones who has special authorization from the ministry, the official said.
Before the change, all of the foreign trading rights should be approved by the ministry.
On accessing the World Trade Organization, China promised to grant full trading rights to all companies in three years.
The measures are expected to have a boost on China's foreign trade business, the official said.
The new move only covers the domestically invested foreign trade businesses.
To foreign side, China has opened its trade sector to foreign firms, starting to examine and approve Sino-foreign joint-venture trading firms starting from March 2 of 2003.
Foreign companies are asked to hold 25 per cent to 49 per cent shares of joint venture trading firms.
A local official from the Guangdong Provincial Foreign Trade Department believed the new policy will boost the involvement of private companies in China's foreign trade.
"The lowering of registered capital makes the trading right available to the small private companies," he said.
He expected a swarm of private companies will ask for the approval in Guangdong when the new regulation takes effect on September 1.
But trade experts said the majority of private businesses are slow to start trading and the proportion of their exports in China's total is still small.
Till the end of last year, 1,980 private firms in Shanghai have gained trading right but only 578 of them have sold to other countries, making up a mere 1.02 per cent of the city's total exports, according to official statistics.
A questionnaire of the Shanghai Association of Foreign Trade and Economic Co-operation Firms to 195 responding private firms showed many pointed to difficulties in raising funds, lack of market information and unfamiliarity with trading business as major blocks.