Stargazers prepare for Mars close-up
( 2003-08-27 10:41) (eastday.com)
Chinese stargazers can now think of nothing else but Mars. The red planet will come closer to Earth Wednesday than at anytime in around 60,000 years.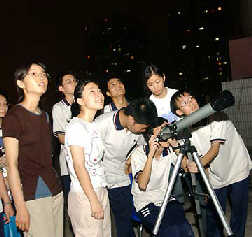 Amateur astronomers from Guangzhou High School No 113 in South China's Guangdong Province observe the planet Mars from their school, August 24, 2003. The red planet is expected to reach its closest point to the Earth in almost 60,000 years. [newsphoto.com.cn]
"I won't miss it for anything! I'd rather put off meeting my clients today," said Ye Minglei, a foreign-trade firm employee and an astronomy buff in Shanghai.
Besides Ye, thousands of astronomy fans will either stand on their balconies or go to the countryside to catch a last-gasp glimpse of Mars: It won't come as close again in their lifetime.
If the weather cooperates, stargazers will be able to observe the ever-clear-and-big planet in the southeast after sunset Wednesday.
The fourth rock from the sun, with its rusty twinkle apparent in the faint sky, should shine brighter than any other heavenly bodies - including the moon and Venus, astronomers said.
Some 55.76 million kilo-meters will separate the two planets this evening. If the distance seems big, consider this: Mars was five times as far away just six months ago.
Tuesday, more than 300 residents in Shanghai went to Shanghai Library for a lecture on Mars.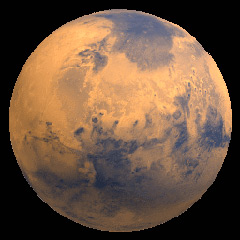 The red planet
Telescopes, priced from 200 yuan (US$24) to several thousand yuan, have been selling like hotcakes these days.
"We sold around 2,000 astronomical telescopes last month. But in the same period last year, we sold less than 100," said Dong Yun-bing, a salesman at Bosma telescope shop on Shanghai's Nandan Road.
According to the Shanghai Astronomy Society, the city now has many astronomy fans. "The membership of Shanghai Phosphor Union, the city's premier astrono-mical club, has hit some 200 - almost eight times more than when it was founded in late 2001," said society secretary general Lin Qing.