Sampras: 'I'm done, 100 percent done'
( 2003-08-27 10:32) (Agencies)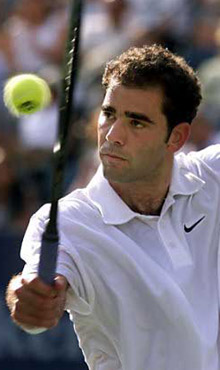 Pete Sampras carried his 9-month-old son instead of a racket bag as he took one last walk off center court to one last standing ovation.
No more titles to win. No more matches to play.
Sampras delivered a formal farewell to tennis on Monday at an on-court ceremony and earlier news conference at the US Open, not quite one year since he won the tournament in what turned out to be his final match.
``The process is now over. I'm 100 percent retired,'' Sampras said, his voice cracking. ``I'm at peace with it. It's time to call it a career.''
Sampras, who's 32 and became a father in November, leaves with 64 singles titles, including a record 14 at Grand Slam tournaments"``I will never sit here and say I'm the greatest ever. I've done what I've done in the game. I've won a number of majors _ I think that's kind of the answer to everything,'' Sampras, wearing a black suit and gray shirt, said at the news conference on the first day of the US Open.
``I don't know if there's one best player of all time. I feel my game will match up to just about anybody. I played perfect tennis at times, in my mind.''
Later, he was honored in a half-hour ceremony between the two night matches in Arthur Ashe Stadium. The crowd treated him to three extended standing ovations, while fellow major champions John McEnroe, Boris Becker and Jim Courier delivered speeches.
``I tried to serve like you. I couldn't do that. I tried to hit a big forehand like you. I couldn't do that,'' McEnroe said. ``I also tried to act like Pete. Needless to say, I failed at that.''
Sampras, known for his mild-mannered demeanor off and, often, on the court, wiped away tears during the tribute, which also included a three-minute highlight video with clips from each of his major final victories and taped words from Andre Agassi.
Sampras was given a plaque with a photo of him in his trademark pose of jumping for an overhead smash, with a red superhero's cape superimposed. The plaque read: ``In a career that spanned three decades, Pete Sampras rewrote the record books for the men's game and redefined the word `champion.'''
He finished at No. 1 in the rankings a record six years (1993-98) and held the top spot a total of 286 weeks, another record. Sampras tops the career earnings list with $43 million.
``Staying at No. 1 for six consecutive years is an incredibly demanding thing,'' said Courier, a rival of Sampras' in the 1990s and now a TV analyst. ``He was able to stay healthy and stay hungry and continue to win at a very competitive time. He was playing against some tremendous all-time champions and still dominating.''
Sampras touched on a number of topics Monday, including his vanishing style of play (``The serve-and-volley game is pretty much gone today. I do worry about it.''); his most disappointing moment (losing in the second round of Wimbledon last year); his loss to Stefan Edberg in the 1992 US Open final (``It made me hate to lose. I just became obsessed with being the best.''); and becoming detached from tennis (``I don't watch any. To shut it out has been nice. It's been so consuming to my life for so many years.'').
He forever will be associated with Wimbledon, where his skills translated perfectly to grass, and where he went 56-1 while winning seven titles in eight years.
Speaking about the All England Club, three-time Wimbledon champion Becker said: ``Before you were around, I used to own the place. ... Seven titles later, you stole my keys.''
Still, the National Tennis Center made a perfect setting for Sampras' goodbye: He won his first and last major titles at the US Open. In 1990, Sampras beat Agassi in the final to become, at 19, the youngest champion in tournament history. Last year, he beat _ guess who? _ Agassi to become, at 31, the oldest Open champion since 1970.
Last year's title was particularly sweet, given that Sampras hadn't won any tournament in more than two years. The man he beat in the third round, 1997 finalist Greg Rusedski, called Sampras ``a step and a half slow'' _ but Sampras just kept winning en route to what on Monday he called the happiest moment of his career.
``I'm not retiring because I'm married or I have a son. I'm retiring because I have nothing to prove to myself. I've always had challenges ahead of me, either staying No. 1 or winning majors,'' Sampras said. ``My biggest challenge was last year _ the challenge of winning one more. Once I did that, I felt I really had climbed a tall mountain.''
After that victory, Sampras hinted he might walk away but never said so explicitly. Instead, he practiced with coach Paul Annacone until he was sure he was ready to hang up the racket.
``As the year went on, he wanted to see how it felt, wondering: `Do I need to go play?' Clearly, Pete is someone who knows what he needs to do to be prepared to play. He didn't just want to show at a tournament. He wanted to be ready to win,'' Annacone said. ``This whole process has been about deciding what you want to do about playing, and now he'll move on.''
After Monday's ceremony, Sampras took a lap around the court with his son in his arms while Pearl Jam's song ``Alive'' blared overhead and fans stood. After a full circle, Sampras kept walking, right through the door that leads to the locker rooms.
``I'll miss playing. I'll miss competing. I'll miss going out in finals at Wimbledon or here, in front of 20,000 people. That rush, that excitement,'' Sampras said.
``Just the joy of playing the game that I will miss.''