Bombay blasts revenge for Gujarat riots -Indian state
( 2003-08-27 09:36) (Agencies)
Grieving families cremated the victims of twin car bombs in India's financial capital Bombay on Tuesday as the state government said it believed the attacks were revenge for religious riots in neighboring Gujarat state.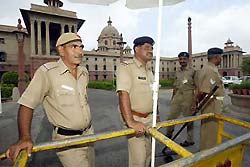 Indian policemen stand guard outside the Home Ministry building in New Delhi Aug 26, 2003. Security has been enhanced in New Delhi especially around major government, tourist and religious sites on Tuesday after car bombs killed at least 48 people in its financial capital Bombay. [Reuters]

Deputy Prime Minister Lal Krishna Advani, touring Bombay, earlier revived charges Pakistan was doing too little to curb Muslim militants but stopped short of blaming Islamabad directly for the attacks, saying he did not know who was responsible.

Pakistan rejected Advani's accusation that it was waging a "war of terrorism" against India, saying it had nothing to do with the bombings.

State Home (Interior) Minister Chhagan Bhujbal in charge of Bombay said he believed the cause was closer to home and the devastating explosions were the latest in a series that had been aimed at Gujarati-dominated areas of Bombay.

"It is the fallout of the riots in Gujarat. This is revenge," he told Reuters Tuesday.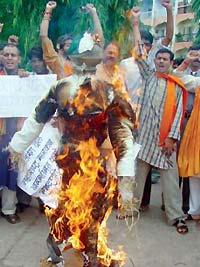 Activists from the Hindu hard-line group Bajrang Dal burn an effigy representing terrorism in the central Indian city of Bhopal Aug 26, 2003. The activists were protesting yesterday's bomb blasts in Bombay that killed at least 48 people. [Reuters]

More than 1,000 people, mostly Muslims, died last year in killings following an attack on a train carrying Hindu pilgrims from the northern holy town of Ayodhya.

Bhujbal did not name who he thought was responsible for Monday's bombings, the worst in Bombay in a decade, and would not rule out the involvement of foreign militants.

The Bharatiya Janata Party (BJP), which leads the national coalition government and also rules Gujarat, has denied any connection between the riots and the explosions.

Police have blamed the outlawed Students Islamic Movement of India working together with the banned Pakistan-based Kashmiri separatist group Lashkar-e-Taiba for the bombings.

PAKISTAN CONDEMNS BLASTS

Islamabad condemned Monday's bombings, which coincided with a thaw in relations between nuclear-armed India and Pakistan.

Advani said Pakistan should prove its sincerity by handing over suspects wanted by New Delhi for past bombings.

"Only then can we believe that they meant what they said yesterday when they condemned the attacks," he said.

Pakistan Information Minister Sheikh Rashid Ahmed told Reuters India was indulging in "non-serious talk."

A Pakistani Foreign Ministry statement called Advani's comments "baseless and irresponsible" and not in keeping with recent conciliatory steps between the two countries.

Among the bomb victims were eight men from Gujarat who had been on a Hindu pilgrimage and were in Bombay on holiday.

The eight men had been visiting the Gateway of India, a huge British colonial waterfront arch and Bombay's most popular tourist attraction, when the second bomb exploded. The first exploded in a crowded gold and jewelry market.

In Bombay, police raided slums and picked up people for questioning about the bombs, which were planted in taxis.

No one has claimed responsibility. Police were questioning the owner of one of the taxis used in the blasts about a couple who hired him Sunday for a tour.

Many in the city, which attracts thousands of poor migrants seeking a better life, said they were afraid.

"Every moment, I feel there is danger in Bombay. But still, I have to put my life on the line and go out to work today," said Sheikh Abdul Sheikh, a 32-year-old tailor.

But the bustling city quickly returned to work and markets rallied, with the key 30-share index ending up 3.7 percent after closing 2.92 percent lower Monday.

Others relived the horrors of Monday's bombings, the worst since 1993 when 260 died in a series of blasts, seen as a retaliation for Muslim deaths in Hindu-Muslim riots that year.

Gulzar Hussain, 28-year-old owner of a shoe shop near the site of the first blast, had to dig his uncle's blood-soaked body from underneath a dead customer but was unable to save him. Three women and a schoolgirl in uniform and carrying a bag, lay dead in front of his shop.

India often blames Pakistan for attacks by militants in disputed Kashmir and elsewhere in the country.

They came close to war last year over an attack on India's parliament, which New Delhi blamed on Pakistan. Islamabad denied involvement. But the two have been building their relationship this year, restoring road links and diplomatic ties.