Israel kills bystander in Gaza strike on militants
( 2003-08-27 08:38) (Agencies)
Helicopter gunships fired missiles at a car carrying Hamas gunmen in the Gaza Strip on Tuesday, killing an elderly bystander, as Israel pressed on with one of its bloodiest hunts for militants in three years of violence.
Palestinian youths jump on top of a car that was destroyed during an Israeli rocket attack in the Jebaliya refugee camp north of Gaza City Aug 26 2003. An Israeli helicopter fired three missiles at the car of a Hamas fugitive Tuesday, killing a bystander and wounding at least 26, doctors and witnesses said. [AP]

The strike, the third in less than a week, showed Israel's resolve to keep up attacks on Hamas after a suicide bombing on a Jerusalem bus killed 21 people, including six children, and dealt a heavy blow to a U.S.-led peace plan.

The helicopters fired a salvo of missiles at the car during the evening rush hour in Jabalya refugee camp near Gaza City.

Two members of the military wing of the militant Islamic group Hamas who were in the car survived the strike, with one of the men sustaining only light injuries, Hamas sources said.

But the blasts killed a 64-year-old man passing by and injured 20 people, including six children, medics said.

"There was enormous panic, women and children screaming and weeping," said Akram Lubad, his T-shirt stained with blood from helping the injured, including his brother.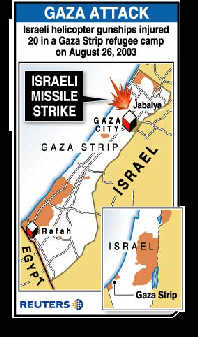 Minutes after the strike, Palestinian youths chanting "Revenge, revenge" jumped on top of the battered white Renault.
The attack was carried out days after Israel assassinated a senior Hamas leader and killed four militants in response to the Jerusalem bus bombing.
Israel has said it will continue tracking down and killing Hamas leaders, many of whom have now gone into hiding. Hamas has vowed revenge attacks.
"This brutal Israeli government policy will only take us to the vicious cycle of violence," Palestinian Prime Minister Mahmoud Abbas said in a statement.
The target of the strike, Khaled Masaoud, was behind Qassam rocket attacks, Israeli sources said. A security source added the Israeli missiles missed the target because they were armed with small warheads to minimize the risk of hitting civilians.
In Washington, State Department spokesman Philip Reeker criticized the strike: "The killing of innocents has got to stop. We have to see an end to terror and violence."
Earlier on Tuesday, Israeli troops snatched two injured militants from their hospital beds in Nablus in the West Bank and transferred them in military ambulances to a Tel Aviv hospital where they were admitted under police guard.
PALESTINIAN CONDEMNATION
Palestinian officials accused Israel of trying to sabotage the peace "road map." Israel says it is acting because the Palestinian Authority has failed to dismantle militant groups as mandated by the plan.
Abbas, vying with President Yasser Arafat for control of security forces key to meeting U.S. demands for a crackdown on militants, planned to convene parliament next week to discuss his government's future.
Abbas has been weakened by the collapse of the cease-fire he brokered, a surge in Israeli-Palestinian violence and moves by Arafat widely seen as attempts to undermine his authority.
The legislative session, which a senior Palestinian official said could lead to a vote of confidence, would give Abbas an opportunity to shore up support some 100 days after Arafat reluctantly appointed him under U.S. and Israeli pressure.
The White House on Tuesday protested against Arafat's decision on Monday to appoint a new national security adviser, saying it undercut reformist Abbas and the road map.
"By blocking the consolidation of the Palestinian security services under Prime Minister Abbas, Yasser Arafat undercuts the fight against terrorism and further undermines the hopes of the Palestinian people for peace and for a Palestinian state," White House spokeswoman Claire Buchan told reporters.
Asked about the White House comments, Arafat told Reuters: "I will not allow anyone to intervene in our internal affairs.
"I want to ask does anyone intervene in how Israel carries out its own affairs? Does anyone intervene in any country's system and how it works?"