Editorial: Sharing health info with the public
( 2003-08-27 07:11) (China Daily)
As summer unleashes its last scorching heat and signs of autumn fade in, fear over a possible return of SARS (severe acute respiratory syndrome) rises.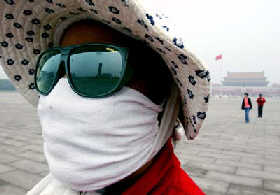 A masked woman walks on the Tian'anmen Square in Beijing on May 1, 2003. The outbreak of severe acute respiratory syndrome forced most Beijingers to wear masks when going out. [newsphoto.com.cn]
Reporting to the Standing Committee of the National People's Congress yesterday on the nation's preparedness for major contagious diseases, Gao Qiang, a public health vice-minister, presented his ministry's diagnosis of flaws in the country's current epidemic control network.
Gao named six deficiencies -- inadequacies in awareness of the severity and threat of major epidemics, in addition to the lack of quick response mechanisms, prevention and control capabilities, legislative backing, rural infrastructure and government financing.
While we hold our breath to see whether the once-rampant SARS will raise its ugly head during the coming cooler months, it is reassuring to know those paid to be on the look-out are doing their job.
There may be various reasons for the unwillingness to look back. The havoc SARS wreaked remains an open wound for those who lost their beloved ones. The intense fear that held us for months is still haunting.
For some in decision-making positions, however, those days marked an embarrassing ordeal that questioned their competence and even conscience.
Praise for the effectiveness of the authorities' countermeasures were abound in the wake of the World Health Organization's decision to lift its Beijing travel alert.
And no comments can claim fairness without recognizing the government's resolute response after SARS spread from Guangdong Province in the nation's south to North China. The outcome would have been hard to imagine, had Beijing not shared information with the public and the rest of the world and ordered a nationwide mobilization.
But on the other hand, had local and national health authorities acted more resolutely and shared information with the public in a more timely manner, the epidemic may well have been contained within the borders of Guangdong Province, where SARS was first reported in China.
It is essential for those in charge to be aware. Their ignorance or dereliction of duty could result in public health disasters.
The SARS onslaught showed that, as did the spread of AIDS in rural communities.
Gao disclosed that there were more than 40,000 reported AIDS infections nationwide by the end of 2002. In 2002 alone, more than 740,000 cases of sexually transmitted diseases were reported in China.
Ignorance of AIDS, especially how the disease is transmitted, is a major contributing factor to its spread.
That, too, has to do with the authorities' long reluctance to discuss the issue in public. After all, drug use, prostitution and homosexuality, the major causes of AIDS and sexually transmitted diseases in the country, are more often than not related to crime and immorality.
Even basic knowledge about human sexuality was not discussed in school classrooms until recently. Public campaigns to promote AIDS awareness and condom use are also quite new.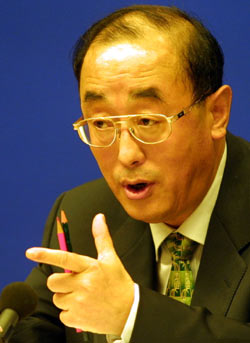 Gao Qiang (file photo)



Grim realities have shown how much more damage we may have to suffer if health information is kept away from the public.

The public's initial panic and later composed collective defence against SARS demonstrated a sharp contrast between the authorities' withholding and publishing information.

SARS exposed the country's poor preparedness for major epidemic outbreaks. A lack of financial support, equipment and staff were indeed among the most serious obstacles.

The central government has allocated generous sums and created special funds for epidemic prevention and control.

But as SARS has shown, epidemic prevention and control rests heavily on public participation.

In order for them to join forces in an informed manner, members of the public have to be told what is happening, and what they should do in cases of medical emergencies.

Vice-Health Minister Gao's report did include a proposal to increase the transparency of information relating to epidemics.

The call has to be answered with more specifics.