India braces for Bombay bombings backlash
( 2003-08-26 14:06) (Agencies)
India stepped up security at religious sites on Tuesday after car bombs killed at least 48 people in its financial capital in an attack police suspect was the work of Muslim groups.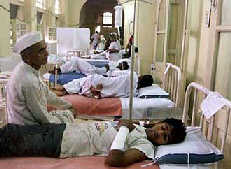 Bomb blast victims are treated in a Bombay hospital, August 25, 2003. Two car bombs killed at least 50 people in India's financial capital, one ripping through a congested bullion market and the second exploding minutes later near the city's most popular tourist attraction. [Reuters]

Extra police with semi-automatic weapons patrolled temples, mosques and public places nationwide while in Bombay police raided slums and picked up people for questioning.

Police also increased spot identity checks after Monday's bombs, which were planted in two taxis.

"We have increased the number of pickets around religious places," said New Delhi police spokesman Ravi Pawar.

"Patrolling in markets and crowded areas has been intensified and posters and leaflets are being put up educating the public to be careful about suspicious packages," he added.

Bloodstained footpaths, broken glass and debris marked the blast sites, one at a crowded gold and jewelry market, the other near the Gateway of India, a huge waterfront arch built by India's former British rulers.

Bombay opened for a normal working day with its usual heavy traffic and packed trains.

"Every moment, I feel there is danger in Bombay. But still, I have to put my life on the line and go out to work today," said Sheikh Abdul Sheikh, a 32-year-old tailor waiting at a bus stop.

Financial markets rallied, shrugging off the bomb blasts. The key 30-share index was up 1.25 percent in early trading after closing down 2.92 percent on Monday. Currency and bond markets also recovered.

Deputy Prime Minister Lal Krishna Advani was to fly to Bombay to visit some of the 150 injured in the blasts.

Police said they suspected an outlawed Muslim student group working alongside Pakistan-based Kashmiri separatist organization Lashkar-e-Taiba of planting the bombs.

No one has claimed responsibility. Police are questioning the owner of one of the taxis used in the blasts about a couple who hired him on Sunday for a tour.

The explosions were the worst in Bombay since 1993, when a series of bombs killed at least 260 in what was seen as retaliation for the deaths of minority Muslims after Hindu-Muslim riots.

SENSITIVE TIME

Monday's attacks come at a sensitive time for India.

Its most populous state, Uttar Pradesh, is in political crisis after the ruling coalition collapsed and polls are due soon in five other states.

A new report also suggested a Hindu temple predated an ancient mosque in the town of Ayodhya, at the heart of Hindu-Muslim riots in the early 1990s.

Millions of Hindus are also traveling across the country on a major pilgrimage to a river near Bombay. Police halted one pilgrim train near the city after Monday's blasts, having discovered detonators on the track.

A thaw in relations with Pakistan is also at a delicate stage after the nuclear rivals came close to war last year.

But although previous attacks have heralded a deterioration in relations with Pakistan, New Delhi held back from criticizing its neighbor this time and Islamabad condemned the bombings.

The attack was the latest in a series to hit the city of almost 16 million. A bomb on a bus killed three people in December while 12 were killed in March by a bomb on a rush-hour train and two others in another bus bomb in July.

Police have long feared a major attack or communal clashes in Bombay after riots in the nearby western state of Gujarat in 2002 that killed at least 1,000 people, mostly Muslims.

Those riots came after a suspected Muslim mob torched a trainload of Hindu pilgrims returning from Ayodhya, killing 59.

Ayodhya has been a lightning rod for Hindu-Muslim tension since late 1992 when Hindu hard-liners tore down a mosque they said had been built on the birthplace of the Hindu god-king Ram, triggering riots and subsequently the 1993 Bombay bombings.

On Monday, a court-ordered report from a team of archaeologists was released, saying they had found evidence of a Hindu temple under the ruins of the mosque and raising fresh fears of strains.