Bombay blasts kill at least 46
( 2003-08-26 08:05) (Agencies)
Two bombs went off less than 15 minutes apart in crowded parking lots near a popular tourist spot and a busy jewelry market in Bombay on Monday, killing about 46 people and injuring at least 143, officials said.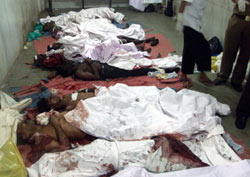 Bodies of victims of bomb blasts lie at mourge in the St. George Hospital in Bombay, August 25, 2003. [Reuters]

The bombs were planted in the trunks of taxis at both sites, according to police.

No group claimed responsibility for Monday's blasts, but a senior police official said that preliminary investigations pointed to the members of a banned, radical Islamic student group called the Students Islamic Movement of India, or SIMI, which has ties to a militant group active in the Himalayan region of Kashmir.

Several hours after the explosions, authorities found nine detonators on a rail track near the city that is used by pilgrims heading to a major Hindu festival, railway police reported.

"It is an act of terror. It is now clear that the commercial capital of India has become a targeted city," said Javed Ahmed, joint commissioner of Bombay police, in a telephone interview.

There have been five bomb blasts on Bombay city buses and trains since last December, which have left 16 dead and 190 wounded.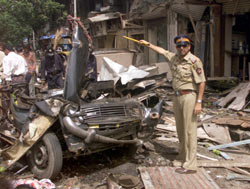 Indian policeman gestures next to a wreckage of a taxi after powerful bomb exploded in Bombay, August 25, 2003. [Reuters]
The bombs went off in the parking lot of the city's historic Gateway of India, a popular early 20th century seaside tourist spot, and near Zaveri Bazaar, a busy jewelry market in the city.
Police said that they had important clues from a taxi driver at the Gateway of India about a young passenger who had toured the two sites in his taxi on Sunday.
"Since last year, Bombay has been witnessing a number of such bomb blasts. In almost all the cases, the organization involved has been SIMI acting mostly in conjunction with the Lashkar-i-Taiba," India's Deputy Prime Minister L.K. Advani told reporters in New Delhi, referring to a group in Pakistan that the United States has labeled terrorist and accused of helping to smuggle al Qaeda members out of Afghanistan.
"Only investigations will prove whether today's blasts also seem to be the handiwork of the same organization."
The police immediately sealed the city and bomb squads carried out inspections at several important buildings. A state of alert was declared in the western state of Maharashtra and Gujarat, and security was also tightened around all public buildings in New Delhi.
Television images from the blast sites showed panic-stricken citizens helping the injured through streets littered with the carcasses of cars and twisted metal. Telephone lines were jammed and mobile phone services briefly crashed as alarmed residents called family and friends.
"I heard a sudden loud bang and saw black smoke everywhere," said a young man who identified himself as a shopkeeper at the jewelry market, speaking to the Hindi language TV channel, Ajtak. "I couldn't understand anything. I saw dead bodies and heard people crying everywhere."
Police officials also said that the warren of narrow by-lanes at Zaveri Bazaar made it difficult for the police to reach the spot immediately. When the chief minister of the state of Maharashtra reached the spot, restive crowds surrounded him shouting angry slogans.
"The blasts are an attempt to shatter the peace and economic boom of Bombay," said Maharashtra's chief minister, Sushil Kumar Shinde. "But I ask the residents of the city not to give in to the forces of terror and not to believe in rumors."
Many in Bombay were reminded of a wave of bomb blasts that killed about 250 people in March 1993. Those bombings were blamed on Muslim militants retaliating for the destruction of a mosque by Hindus the previous year in the northern city of Ayodhya. The mosque site, which many Hindus believe to be the birthplace of their God Ram, has been the source of strife between Hindus and Muslims.