Official vows to defend nation's health
( 2003-08-26 06:40) (China Daily)
A senior health official Monday pledged to give top priority to the prevention of major epidemic diseases including the severe acute respiratory syndrome (SARS).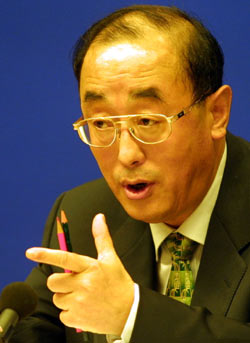 Gao Qiang (file photo)

"China is still facing a tough challenge in the prevention and control of major epidemic diseases, which endanger people's health and life and influence economic development and social stability,'' said Gao Qiang, vice-minister of health.

He made this remark when reporting to the latest session of the Standing Committee of the 10th National People's Congress, the country's top legislature, on the country's progress in the prevention and control of major epidemic diseases.

"We should not relax our efforts to prevent SARS from coming back, which remains a challenging task,'' Gao said.

He said the country's medical personnel have neither totally grasped the ways in which the disease spreads nor made any major breakthroughs in their research to find effective methods of diagnosis and prevention, or to develop effective medicines.

The country should remain on guard, especially now that social and economic life have returned to normal, he added.

Gao said the country will establish a long-term system and work out countermeasures to control and ultimately prevent SARS.

He added that measures will be taken to enhance monitoring of epidemic situations, improve the epidemic information reporting system, further streamline the establishment of fever clinics and epidemic monitoring stations, enhance prevention and control of hospital infections, and to sum up experience in combining traditional Chinese and modern medical sciences in treating SARS.

Efforts will also be made to work out technical guidance schemes, enhance technical training, strengthen scientific research to achieve breakthroughs in early diagnosis and development of preventive bacteria and to organize contingency training.

Gao said the country is also facing challenges from other major infectious diseases such as the plague, cholera, HIV/AIDS, sexually transmitted diseases, tuberculosis, viral hepatitis and endemic schistosomiasis.

There were over 40,000 cases of HIV/AIDS by the end of last year. The country reported its first case of HIV/AIDS in 1985.

The country reported over 580,000 new tuberculosis cases last year. One of every four new tuberculosis cases in the world occurs in China, according to the World Health Organization.

He said the country is also facing an increasing threat from some new epidemic diseases such as bird flu, mad cow disease and Ebola.

Gao also pledged to speed up rural health service development and enhance popularization of health information to increase public awareness.