Blasts rock Bombay, at least 25 killed
( 2003-08-25 17:54) (Agencies)
Bombs exploded in India's financial capital Bombay on Monday, killing at least 25 people and wounding scores, some seriously, police said.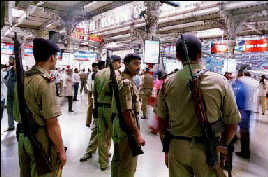 At least 25 people were killed and dozens injured as India's commercial capital Bombay was rocked by at least four explosions.
It was not immediately clear who planted the bombs, one of which exploded near the historic Gateway of India, a crowded monument in the tourist heart of the city.
The blasts follow a thaw in relations between Pakistan and India, which has accused its neighbour in the past of harbouring Islamic radicals it blames for previous attacks on its territory.
Police official S.K. Tonapi told Reuters 25 people had been killed and more than 100 wounded.
"Everyone over here is pretty shaken," said an employee of the luxury Taj Mahal Hotel, which stands beside the brown sandstone arch that is the Gateway of India.
"At least four or five people were injured -- their legs and hands bleeding. Two or three guys were unconscious. They were all mainly street peddlers," the employee, who declined to be named, told Reuters.
"There are remnants of a taxi lying around, such as the front of the taxi and the tyres, right in front of the old Taj."
The key Bombay Stock Exchange index <.BSESN> fell nearly three percent or 121 points at 4003.93 on the news, while the National Stock Exchange index <.NSEI> fell 3.57 percent.
A state home ministry official told Reuters there had been four blasts around the city, but could not confirm that all were bombs.
Police said there were at least two bombs, one of which was near the Gateway of India, the other near a Hindu temple.
Last year, nuclear-armed India and Pakistan had one million troops staring at each other across their border in the disputed Kashmir region, and relations were frozen.
That standoff followed a bloody December 2001 attack by Islamic radicals on India's federal parliament in New Delhi.
Mainly Hindu India blamed the parliament attack on Pakistan-based militants fighting for independence in Indian-ruled Kashmir, its only Muslim-majority state.
SIGNS OF A THAW
Signs of a thaw emerged in April when Indian Prime Minister Atal Behari Vajpayee said he wanted to make a final personal bid for peace with Pakistan.
Confidence-building measures such as the restoration of a suspended bus link between Pakistan and India in July bred goodwill across the subcontinent.
Talks on restoring air links had been planned for this week.
But a constant refrain from India has been that Pakistan has to do more to curb Muslim radicals launching cross-border raids into Kashmir.
Bombay has been hit by a series of deadly bomb attacks in recent months.
The attacks revived grim memories among Bombay residents of a wave of blasts in the city in March 1993 that killed 250.
Those blasts, in 13 places within 90 minutes of each other, were blamed on groups avenging Muslim deaths in Hindu-Muslim riots following the razing of a mosque at Ayodhya in northern India.
"The front windows of the downstairs restaurants of the Taj are shattered and some of the rooms on top, too -- all shattered," the hotel employee said of the latest blast.
Speedboats and yachts often cluster in the waters of the bay across the street from the Taj, but authorities have warned the vessels to stay away, the employee added.
"Authorities have sent all those cruising yachts out to sea and they're sending signal flares to all the big ships not to come into the bay," she said.
In December, a bomb blew off the rear of a bus killing three people n Bombay and wounding 26.
In March, a bomb blew apart a packed rush-hour train killing 12 people and wounding 75.
In July, a bomb ripped through a Bombay bus, killing two people and injuring 42.