'Apology should come from Emily Lau'
( 2003-08-22 11:54) (China Daily HK Edition)
Using defence as a means of offence, Emily Lau Wai-hing held a press conference on Tuesday in which she not only refused to admit that her participation in a seminar organized by Taiwan independence advocates smacked of encouraging Taiwan separatism, but even accused the author of an article in China Daily of "sheer fabrication, hurling indiscriminate accusations, and making a mountain out of a molehill". She demanded an apology.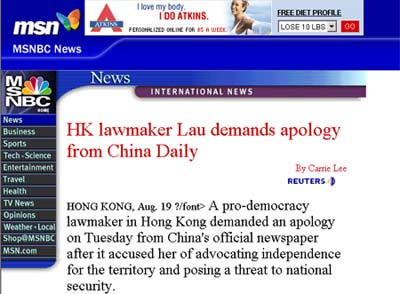 Lau's lack of self-reflection and her efforts to blame her critic came as a surprise. In fact, the one who should apologize is nobody else but Lau herself.

The signed article in China Daily, which started with the cardinal principle of "One China", exposed the sinister design of Taiwan Advocates in holding the seminar at a crucial time when Hong Kong is engaging in in-depth discussions of legislation for Article 23. It proceeded to criticize Lau for supporting the cause of Taiwan independence by attending the seminar. On this basis, it predicted that today's backer of Taiwan separatism would probably become the promoter of "Hong Kong independence" tomorrow. It cautioned Hong Kong people to be vigilant. Which part of this rationale does she think is illogical?

So the honorable legislator wants the facts?

Here they are: Her saying that "the future of Taiwan should be determined by the Taiwan people themselves" in fact echoed Chen Shui-bian's cry for a referendum on the island. When questioned sternly by Allen Lee, a local deputy to the National People's Congress, she still refused to acknowledge that Taiwan is part of China, and said that she had been saying that for two decades. That was simply an attempt to confound right and wrong, but her act to cover up her misdeed only made it even more glaring.

The fact is, Lee Teng-hui and Chen Shui-bian used the seminar for propaganda purposes and staged an out-and-out political show for Taiwan independence. For the very reason that there were Hong Kong lawmakers there to give them support, they were able to put forward more reasons to pull further away from China and to negate the principle of "One Country, Two Systems". Is it not clear enough to whom Lau was lending a helping hand?

The one who should apologize is Lau, for she has hurt the national feelings of Hong Kong people. As an elected Legislative Councillor, she has always posed as the representative of public opinion. Therefore, her trip to Taiwan this time must have misled some Taiwan compatriots into believing that Hong Kong people are against the legislation for national security, and that Hongkongers are willing to brush shoulders and echo the slogans of Taiwan separatists in disregard of national principles.

This is an insult to Hong Kong people's nationalistic spirit and smears the "One Country, Two Systems" principle upheld by the Basic Law.

Naturally, Lau's trip to Taiwan has provoked condemnation from the Hong Kong media. Some of the people who participated in the mass protest on July 1 placed a newspaper advertisement to denounce her for hijacking public opinion and to clearly distinguish themselves from her.

Apparently, Lau is good at sophistry. She claimed that she was "anything but regretful", and that she "will continue to do that". The more she resorts to such rhetoric, however, the more she will lay bare her lack of nationalistic feelings and her obstinacy.

I would like to give Lau the following advice: Listen to the people's voice. Do not play with fire when it comes to the cardinal principle of national unification. Make a sincere apology to Hong Kong people and distinguish yourself from the Taiwan pro-independence forces as soon as possible. Otherwise, the day will come when it is too late to regret.
HK Edition By Dao Yuan