Commentary: Victim of terrorism and US policy
( 2003-08-21 09:15) (China Daily)
Sergio Vieira de Mello, the top United Nations (UN) envoy to Iraq, was deprived of his precious life by a terrorist bomb blast at the UN headquarters in Baghdad Tuesday afternoon.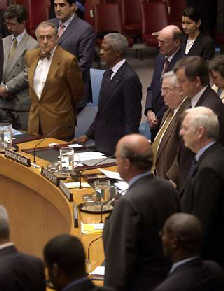 Secretary General Kofi Annan (C) joins members of the UN Security Council in observing a moment of silence for the victims of the bombing of U.N. headquarters in Iraq during a meeting at the UN in New York on August 20, 2003. Twenty people were killed in the incident. [Reuters]
The massive blast, caused by a truck bomb left at least 20 people dead and more than 100 injured.
The incident deserves world-wide condemnation and the perpetrators must be brought to justice, especially since the UN chief representative and his colleagues were in Iraq for peaceful and humanitarian purposes, with no reason for their having been made the target of such a brutal attack.
This is not the first time that UN agencies in Iraq have been the target of terrorist attacks. Earlier in June and July, the world body suffered similar attacks but with fewer losses.
The UN, together with many peace-loving countries, have done a lot to try to bring about a peaceful solution, although to no avail.
Despite its failure to stop the war, the world body is still expected to play an important role in the post-war reconstruction in Iraq, which is in the interests of the Iraqi people.
A senior UN Commissioner for human rights and an expert with extensive experience in international humanitarian aid work, Mello will undoubtedly be missed by the international community and his skills in humanitarian work will also be missed during the process of Iraqi post-war reconstruction.
Mello was the victim of a terrorist attack. But he was also a victim of the US hegemonic policy in the Middle East.
Since the collapse of Saddam Hussein's regime due to the US-led Iraq War, which was started without any convincing evidence and without UN authorization, various kinds of terrorist attacks targeted at the US troops there, sometimes without any clear aim, have never stopped.
The incident and other attacks on the US soldiers in Iraq are a real test of the Bush administration's policy in the region. This should lead the administration of the superpower to think deeply about its self-trumpeted "righteous" policies.