Yellow River turns black in first half
( 2003-08-21 06:57) (China Daily)
The Yellow River, China's second largest waterway, was the most polluted among the nation's seven major rivers during the first half of the year.


The Yellow River in Linfen, North China's Shanxi Province. [newsphoto.com.cn]
The latest monthly report from the State Environmental Protection Administration, released on Tuesday, showed water quality in the Yellow River improved in July but the tributary water quality was still poor.
According to a report on the water quality of China's major rivers in the first half of the year, one of the major reasons for the serious pollution in the Yellow River is the reduction of water flow, which dropped between 32 and 50 per cent from the average of previous years.
Earlier statistics from the Ministry of Water Resources indicated an unusually severe drought in the Yellow River Valleys, and water flow in its tributaries was at the lowest level in 50 years.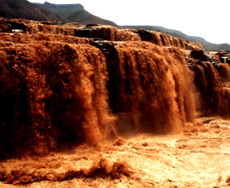 Hukou Waterfall [filephoto]
The 5,464-kilometre Yellow River originates in the Qinghai-Tibet Plateau and winds through eight provinces and autonomous regions before reaching the Bohai Sea in eastern China. Nicknamed China's "mother river,'' it provides water to 12 per cent of the population and irrigates 12 per cent of the nation's arable land.
The water quality at 39.5 per cent of the monitored sections along the river was worse than Grade 5 in the first half of this year, the report said. Grade 5 is the worst in the country's water quality categories.
The report ranked the seven major rivers in China in terms of pollution degree over the first six months of this year, with the Yellow ranking first and China's longest river, the Yangtze,sixth.
The Pearl River was the cleanest, with water quality at 78.1 per cent of the monitored sections standing at Grade 3.
The report also said nitrogen and phosphorus pollution was serious in China's major lakes including Taihu, Dianchi and Chaohu lakes, where the water quality was worse than Grade 5.
It added that the drinking water sources for 47 major cities remained good in the first half of the year.