Annan says UN will stay in Iraq
( 2003-08-20 16:53) (Agencies)
U.N. Secretary-General Kofi Annan said Wednesday the world body will not pull out of Iraq despite an attack on its headquarters in Baghdad that killed its top envoy and 19 other people.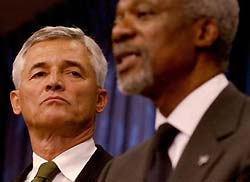 Sergio Vieira de Mello, left, listens after United Nations Secretary General Kofi Annan announces his appointment as U.N. special representative to Iraq, at a press conference at the United Nations in New York, in this May 27, 2003, file photo. Vieira de Mello, a United Nations veteran who served for more than 30 years as a troubleshooter in the world's most dangerous hotspots and became the top U.N. envoy in Iraq, was killed Tuesday. [AP]

"We will persevere. We will continue. It is essential work," Annan said at a news conference in Stockholm, where he stopped briefly before heading to U.N. headquarters in New York. "We will not be intimidated."

Annan said he was to meet with the Security Council later in the day to discuss security arrangements for U.N. workers in Iraq.

"We are reassessing our security arrangements in Iraq. We have been in Iraq for 12 years and we have never been attacked," Annan said, expressing shock at the apparent suicide bombing Tuesday afternoon at the Canal Hotel in Baghdad, where the U.N. headquarters are housed.

Annan also said he was mourning those killed in the attack, including the top U.N. envoy in Iraq, Sergio Vieira de Mello, whom Annan called "our brightest and best." The United Nations will continue its humanitarian mission in Iraq so that the victims' deaths "shall not be in vain."

Vieira de Mello began work June 2 and would have finished his assignment at the end of September.

A cement truck packed with explosives detonated outside the U.N. offices, where 300 employees work. In addition to the deaths, about 100 people were injured.

Annan appeared to indirectly criticize the United States for having underestimated the difficulties of pacifying and rebuilding Iraq after the invasion.

"We had hoped that by now, the coalition forces would have secured the environment for us to be able to carry on ... economic reconstruction and institution building," he said. "That has not happened."

But he also recognized the difficulty in bringing stability to postwar Iraq following the U.S.-led invasion that ousted former leader Saddam Hussein.

"Some mistakes may have been made, some wrong assumptions may have been made, but that does not excuse nor justify the kind of senseless violence that we are seeing in Iraq today. Most Iraqi people would want to get on with their lives."

"These extremists who are targeting innocent civilians are not doing their nation or the people of Iraq any service," Annan said.

Vieira de Mello, a 55-year-old veteran diplomat, was wounded and trapped in the rubble after the 4:30 p.m. attack, and workers gave him water as they tried to extricate him. Hours later, the United Nations announced his death.

Tuesday's bomb blasted a 6-foot-deep crater in the ground, shredding the facade of the Canal Hotel and stunning an organization that had been welcomed by many Iraqis in contrast to the U.S.-led occupation forces.

The United Nations distributes humanitarian aid and is developing programs aimed at boosting Iraq's emerging free press, justice system and monitoring of human rights. U.N. workers were told to stay home Wednesday following what was thought to be the first suicide bombing ever against a world body facility.

Leaders around the world, in condemning the attack, have also vowed not to let it deter the world body's efforts in helping to rebuild Iraq.