Freed European hostages arrive in Germany
( 2003-08-20 15:28) (Agencies)
Fourteen European tourists arrived in Germany aboard a military plane on Wednesday, two days after they were released by al-Qaeda-linked extremists based in Algeria who had held them hostage of six months.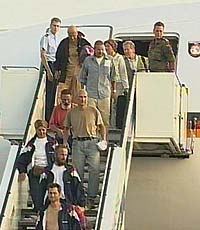 A frame made from TV of some of the fourteen European tourists disembarking at Cologne-Bonn Airport in Germany from a military plane on Wednesday, Aug. 20, 2003, ending a six-month kidnapping ordeal at the hands of al-Qaida-linked Islamic extremists based in Algeria. [AP]

Despite the rigors of their captivity, the former hostages ¡ª nine Germans, four Swiss and one Dutch man ¡ª ambled easily off the plane and on to a bus that whisked them away for reunions with waiting family members.

Several wore track suits that replaced the ragged desert robes they wore when they emerged from the desert, and some carried belongings they'd retained throughout the ordeal in red plastic bags. One gave TV cameras a thumbs-up.

Deputy Foreign Minister Juergen Chrobog, who made three trips to Mali to help negotiate their release and accompanied them back to Germany, described their health as "extraordinarily good."

He expressed sadness at the death of one of the tourists, Michaela Spitzer, the 45-year-old mother of two children, who succumbed to severe heat stroke last month in the desert. Chrobog said the other hostages buried her, and that German officials had the coordinates of the burial site and planned to retrieve her body.

"I am happy that 14 of the 15 hostages arrived healthy today in Bonn," Chrobog told reporters. "We condemn the death of Mrs. Spitzer, who did not survive this ordeal. We are also happy that the other tourists arrived healthy in Germany."

Chrobog deferred any questions about reported payments of ransom to win their release, and with it concerns by some politicians in Germany that the freed hostages should help pay for their rescue.

Rumors that ransom was paid ¡ª nearly $5.5 million, according to Germany's ARD television ¡ª persisted, despite officials' statements that it was against German policy. German media speculated that the money was paid by the Malian government and that Germany, Switzerland and the Netherlands would respond with development aid.

The tourists were among seven groups of 32 Europeans who were captured while traveling through the Sahara desert in off-road vehicles and motorcycles beginning in February. An earlier group of 15 was released in an Algerian commando raid in May, while the fate of the remaining hostages remained unclear. At some point, they were taken across the border into Mali by their captives.

Algeria has linked the kidnappers to the Salafist Group for Call and Combat, one of two main Islamic extremist movements involved in a more than decade-long uprising in Algeria after the results of elections that would have put Islamic parties in power were thrown out. Generally seen as the less bloody of the two movements, it is believed to have ties to al-Qaida.

After being handed over to Malian officials late Monday, the hostages were taken under government escort 370 miles overland from the far northern desert town of Tessalit.

They arrived before sundown at Gao, where German military planes, one equipped with medical equipment, then flew them to the Malian capital Bamako, where they attended a late-night reception ceremony at the presidential palace of Mali's leader, Amadou Toumani Toure, before departing for Germany.

German Chancellor Gerhard Schroeder welcomed their release Tuesday, and urged action against the hostage-takers.

"After the happy ending, one must look to the future," Schroeder said. "It seems important to me that the kidnappers should not be allowed to escape unpunished."