Higher price tapped for urban water
( 2003-08-20 07:05) (China Daily)
Urban water prices will increase as China furthers its effort to conserve the precious resource.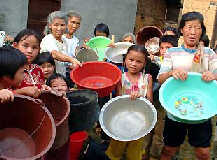 Villagers queue up for water in Shaoyang County in Central China's Hunan Province August 11, 2003. All 54 hectares the county village of Dahu have fallen prey to a severe drought. Many farmers have to leave the village in search of drinking water. [newsphoto.com.cn]
"We will use water pricing to remind people of the scarcity of the resource and enhance their awareness of saving water," Wang Guangtao, minister of construction, told a national conference on water-saving Tuesday in Beijing.
He did not reveal how much the price will increase, or when the new price will be announced.
The price should not only reflect the cost of processing and supplying water, but also include the price of a precious resource as well as the expenditure to improve urban water networking and divert it from other places, Wang said.
China is among the world's most water-scarce countries. The nation's per capita fresh water reserve is a little more than one-fourth of the world level.
With rapid economic development, industrial water consumption has grown significantly in recent years, and prices nationwide have likewise increased.
"We are glad to see that the average urban water price has included the costs to process and supply tap water,'' Wang said.
The country's average urban water price rose from 1998's 0.14 yuan (1.7 US cents) per cubic metre to 1.24 yuan (14.9 US cents) in 2002.
A total of 324 of China's 660 cities have begun to impose waste water processing fees along with the tap water price on urban residents and enterprises. But the current price is not high enough to encourage people to save water and to cover all reasonable expenses concerning supply, Wang said.
The minister estimates that about 21.5 per cent of urban supply networks leak water, wasting 10 billion cubic metres per year.
That leakage is enough to meet 13 years worth of water demand in Beijing, a city whose 13 million residents use 769 million cubic metres of water annually.
Wang said the current water price does not involve the cost to improve urban supply networks.
Meanwhile, with dwindling underground water reserves in major northern cities, more water has to be diverted from other provinces. The country is also constructing a multi-billion-yuan project to divert southern water to arid northern cities.
Wang was echoed by Gan Zhihe, deputy secretary-general of the National Development and Reform Commission (NDRC).
Gan said the NDRC is working with the construction ministry to draft out a water price reform plan.
"While increasing water price, we should also reform water supply enterprises to lower their operation costs," Gan told China Daily.
The NDRC is also studying to introduce diversified investors to water supply areas to activate competition in the field, which remains largely State-monopolized.
At the meeting, 10 cities including Beijing and Shanghai were recognized as model cities in water conservation.