Multi-billion oil, gas deals clinched
( 2003-08-20 06:46) (China Daily)
Leading domestic and foreign oil explorers have clinched multi-billion-dollar deals to accelerate the development of oil and gas projects in the resource-rich East China Sea.
The five prospecting and exploitation contracts were signed Tuesday between the China National Off-shore Oil Corp (CNOOC), the China National Petrochemical Corp, the Shell Group and the Union Oil Co of California.
The exact value of the contracts -- which cover about 22,000 square kilometres of waters -- has not been disclosed.
The two Chinese companies hold 30 per cent of the rights and profits under the agreement and the foreign companies will take the remainder. CNOOC will run the operations, which are situated east of China's economic hub Shanghai and the province of Zhejiang.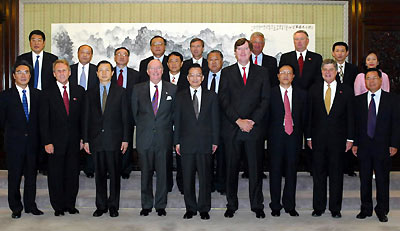 Chinese Premier Wen Jiabao (fifth from the left) poses for a group photo with senior executives of the four groups in Beijing, August 19, 2003. [Xinhua]
Prior to the contracts being inked, Premier Wen Jiabao met the senior executives of the four groups, stressing the close co-operation between Chinese and foreign companies will accelerate the development of oil and gas exploration in the East China Sea.
Wen also said he hopes such co-operation can help guarantee the energy supply for the booming Yangtze River Delta.
To cover the energy demands in the economically developed East China region, the country has already launched projects in the recent years to transport electricity, oil and gas from the nation's western regions.
The National Development and Reform Commission Minister Ma Kai, who is in charge of China's economic operations and key projects, and US Ambassador to China Clark Randt were among those present at the signing ceremony.
An official from Ma's commission told China Daily that the contracts cover exploration, development, production, transportation and the sale of oil and gas from the region.
"This is the biggest oil and gas-related project signed between China and foreign countries during recent years,'' said the official, who refused to reveal his name.
He said the co-operation will speed up exploration in the area, as previous efforts had only been carried out on a relatively small scale.
Experts estimate that about 28-38 billion cubic metres of gas and 10-20 million barrels of oil can be extracted from the area under the agreements.