NY back from blackout as regulators seek cause
( 2003-08-19 14:50) (Agencies)
New York was back in business on Monday without a hitch in the first big test of the power supply since last Thursday's historic outage, but energy regulators were still in the dark about the cause.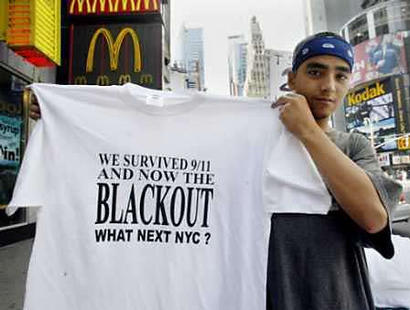 A vender displays a t-shirt which says 'We Survived 9/11 and Now the Blackout. What Next NYC?' in Times Square in New York on August 18, 2003. Financial markets and business opened without a hitch on the first big test for the power supply in parts of the United States and Canada since the historic blackout of August 14. [Reuters]

Pat Wood, the head of the Federal Energy Regulatory Commission, said it was too early to tell what caused North America's worst-ever power blackout but that a U.S.-Canadian government task force will likely take weeks, not months, to find the answer.

Electricity providers urged customers to conserve energy because supplies in New York, the Midwest and the Canadian province of Ontario were still tight as plants downed in the outage slowly restored service.

In New York, it seemed like business as usual.

"Subways are working, buses are working, traffic is light, it's a Monday in August, just what you would expect," New York Mayor Michael Bloomberg said on NY1 News TV.

Bloomberg won praise for staying cool while the heat was on during the 29-hour Big Apple blackout on Thursday and Friday, and he applauded New Yorkers for their calm and orderliness.

In Ottawa, most of the city's 55,000 federal civil servants were told to stay home on Monday. Only essential staff in the provincial government in Ottawa and Toronto were working.

Officials said the threat of rolling blackouts was not yet over and conservation was key to maintaining a safe balance between supply and demand.

"If people continue their conservation efforts and really work hard to curtail power use, we should be able to meet demand without requiring rotating power outages," said a spokeswoman for the Independent Electricity Market Operator.

New York, the most populous city in the United States with 8 million people, lost power shortly after 4 p.m. on Thursday in cascading outages that left up to 50 million in Ontario and eight U.S. states in the dark.

DETROIT AUTOMAKERS OPEN

The big three Detroit automakers resumed production at most North American plants hit by last week's outage.

Health authorities, who had been concerned that the power outage had led to contamination of Detroit's water supply, pronounced the city's water safe and told millions of consumers they no longer needed to boil it before use.

Wall Street had a normal day on Monday after many firms ran trading systems on emergency power systems on Friday. U.S. stocks extended gains in light trading, fed partly by relief that the blackout did not cause lasting economic damage.

The Wall Street Journal reported that business leaders and economists estimated the cost of the blackout for the region could total $6 billion, with retailers and airlines hit hard.

Electric utility FirstEnergy Corp. said it was too early to trace the power loss to three of its transmission lines near Cleveland, Ohio, as one industry expert charged.

The FERC's Wood agreed. "I think it's premature to jump to conclusions about FirstEnergy or any other player," Wood said during a conference call sponsored by Charles Schwab & Co. Inc.

U.S. Energy Secretary Spencer Abraham acknowledged on Sunday that the electricity grid was old. He said the United States needed to generate more electricity, make grid improvements and conserve more energy.