French health chief resigns after heat deaths
( 2003-08-19 10:17) (Agencies)
A senior health official resigned Monday after France's health minister admitted that up to 5,000 people, many of them elderly and alone, might have died in the heat wave ¡ª almost twice as many as previously estimated. The government and opposition traded accusations over who's to blame.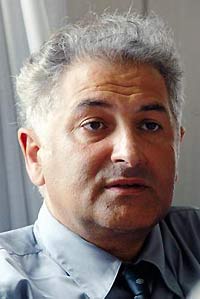 Lucien Abenhaim, the French director general of health, answers a reporter in Paris Monday Aug. 18, 2003. France's worst heat wave claimed its first political victim Monday with Abenhaim resigning after the government said up to 5,000 people, 2,000 more than first feared, may have died. [AP]

The departure of Lucien Abenhaim, director general of health, was expected to increase pressure for embattled Health Minister Jean-Francois Mattei to resign.

For days, French newspapers have questioned the authorities' response and asked why hospitals overflowed with victims as temperatures exceeded 104 degrees.

The left-leaning daily Liberation claimed Monday that the center-right government had not responded properly. Le Parisien topped its front page with the headline "Murderous Heat Wave: What didn't work."

Speaking on RTL radio, Mattei said it was "plausible" that as many as 5,000 people may have died. He said the figure was a hypothesis and the final toll would not be known for several weeks.

Mattei's ministry previously had estimated that 1,600 to 3,000 people died from heat-related causes starting Aug. 7, most of them elderly. Many of the deaths resulted from dehydration or heat stroke, doctors said.

The heat wave caused morgues and funeral homes to overflow with corpses last week. Some used refrigerated warehouses to store bodies before burial. Hospital corridors were crowded with patients on stretchers because there were not enough beds.

Opposition politicians insist that the government did not react quickly enough. One top Socialist lawmaker said he believed Mattei should resign.

Marie-George Buffet, a Communist Party leader, criticized Mattei for an "upsetting" attitude, saying he was "looking to turn the blame on to civil servants."

But lawmakers from the ruling UMP coalition have blamed a law enacted by the previous Socialist government that limited France's working week to 35 hours. That law, combined with the August holidays, left medical centers and hospitals short-staffed, critics allege.

"August is the most dangerous month of the year to get medical treatment," Marc Gentilini, president of the French Red Cross, told Le Parisien. "The heat wave made the system explode."

While the government and opposition parties have traded accusations about the reasons for the high death toll, some people blamed families for leaving elderly relatives alone when they left for vacation in August.

"When we get rid of elderly people during the holidays, leaving them alone with a full refrigerator and a telephone as an alibi, we should not be surprised that they die alone," Gentilini said.

Much of France shuts down in August. The government said many victims were elderly people left at home.

"I blame these selfish people who went south to the beach and neglected their parents," said Emanuel de Montebello, 75, visiting from the southwest of France. "French people are always looking for ways to accuse others when they're at fault themselves."

Abenhaim, the official who resigned, said the effects of the heat wave were "totally unforeseeable."

Mattei defended the government's response.

"We did not get the information and the alert signals that we should have," the health minister said. While hospitals in Paris were submerged by victims, Abenhaim's department "was telling me the situation was under control," he said.

Meteorologists say the heat wave, which also roasted many other parts of Europe, was France's hottest and longest on record. The heat also fanned forest fires and devastated livestock.

Parts of France, where air conditioning is not widespread, saw temperatures of more than 104.

As the thermometer dipped in recent days, Mattei said the effects of the heat wave were under control but the government would stay on "war footing" in case of a new spike in temperatures.