Relief as Sahara hostages freed, handover Tuesday
( 2003-08-19 09:12) (Agencies)
Algerian militants have handed over all 14 European hostages held in the Sahara desert for over five months, bringing relief to families and negotiators who hope to bring the group to Mali's capital Bamako on Tuesday.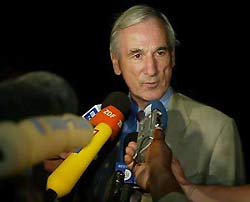 German Deputy Foreign Minister Juergen Chrobog announces to reporters at Bamako airport the release of the hostages, from the north of the country, August 18, 2003. 14 European hostages, held by Algerian militants in the Sahara desert for over five months and handed over to Malian authorities, are expected to travel to the capital Bamako on Tuesday, the minister said. [Reuters]

Confirmation from Malian and German officials that the group members were safe and in the care of Mali authorities ended a tense 24 hours of conflicting reports on the hostages' release.

"This was great negotiating skill by the Mali president (Amadou Toumani Toure)," Germany's Deputy Foreign Minister Juergen Chrobog told a German television station from Bamako.

"The president confirmed to me that all the hostages are well. So that is also a relief, it seems that no one has been hurt," added Chrobog.

It was not clear whether any ransom had been paid.

Kept on the move by hostage-takers hiding in the vastness of the Sahara's rocks and dunes, the group of nine Germans, four Swiss and one Dutch tourist faced temperatures that regularly topped 113 degrees Fahrenheit.

They were among 32 hostages seized in separate incidents in February and March while traveling in southern Algeria, famous for its grave sites but notorious for smuggling and banditry.

They were transferred to Mali last month after Algerian commandos freed 17 hostages in May, killing their kidnappers who Algeria said belonged to the Salafist Group for Preaching and Combat, who are fighting for a purist Islamist state.

One hostage, a 45-year-old German woman, is thought to have died from heatstroke.

Officials did not say where in northern Mali the group were on Monday night, but Chrobog said they would be brought to Bamako on Tuesday and hopefully flown straight to Germany.

"We're waiting. Let's hope they come tomorrow or the day after -- hopefully tomorrow," said a stunned Ursula Gruene, whose son Christian Gruene is among the German hostages after being abducted during a motorcycle tour in February.

Asked if she was relieved, she said: "No, not at the moment. Come back and ask me again in eight, 10 or 14 days. At the moment, I'm not capable of it."

RANSOM REPORTS

German officials, who have led the negotiations along with their Malian counterparts, have refused to confirm or deny German media reports that the kidnappers had demanded security guarantees and some $5 million for each hostage.

Malian officials said last week that kidnappers had demanded a ransom, but that the impoverished country could not pay it.

Asked by a Dutch television station if a ransom had been paid, Dutch Foreign Minister Jaap de Hoop Scheffer said: "I cannot confirm that, but you know that Dutch policy is, and will always be, not to pay ransoms when Dutch nationals are abducted."

"There was close cooperation with Germany, whose nationals made up most of the hostages, and Malian authorities by the Netherlands and Switzerland," he said. "Germany obviously played first fiddle."

Germany has two planes in Mali to help bring the group home.

A Malian minister said earlier on Monday that the hostages would first be taken to the remote border town of Tessalit before being flown to Gao and then on to Bamako.

The episode has been a setback for oil-rich Algeria, which had seen a sharp fall in rebel attacks and a return of foreign tourism and investment after a decade of violence in which more than 100,000 people were killed. The violence erupted after the cancellation of elections in 1992 that radical Islamists were poised to win.