China to raise US World War II plane
( 2003-08-19 07:29) (China Daily)
Deep in the Dianchi Lake in Southwest China's Yunnan Province for 61 years, a fighter plane belonging to the World War II Flying Tiger Fleet will soon be showered in light.

A group photo of Flying Tiger Fleet pilots. [newsphoto.com.cn]
Work to remove the silt from the plane will start in early September and last about 30 to 45 days, according to Yan Jiangzheng, chairman of the China Association for Expedition, who is in charge of the operation.
The Flying Tiger Fleet, led by the late American General Claire Chennault, consisted of American volunteer pilots who fought Japanese invaders during the Second World War.
They transported arms and other material and carried out air raids while giving support to China against the Japanese invaders.
The plane, possibly a P-40 fighter, crashed into the lake on April 28, 1942, during a training exercise. The body of the pilot was recovered soon after.
After a careful mission to again locate the plane, it was found lying 5 metres beneath the surface in the northern part of the lake.
On November 15 or 16, a ceremony will be held at the lake during which the plane will be brought to the surface, Yan said Monday.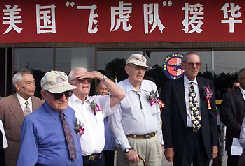 (from left to righ) Former Chinese pilot He Peimao poses with Flying Tiger veterans John richard Rossi, Eriksen E.Shilling, Robert James Raine and Richard Chester Macke, the former commander of US forces in the Pacific, at a gathering in Beijing to mark the 60th anniversary of the American Flying Tigers Volunteer Group. [newsphoto.com.cn]
Two commemorations will be held following the ceremony -- one in Kunming, the location of the lake and other in Nanjing, capital of East China's Jiangsu Province, at which renowned performers from both China and the United States will perform.
The fighter will also be transported to the United States, where efforts will be made to repair it, Yan said. The best case scenario will see the plane back in the air.
Yan said some experts in the US believe it is possible that it can fly again because according to former members of the Flying Tiger Fleet, it was not seriously damaged.
After being exhibited across the US, the fighter plane will be sent back to China, he added.
Given it is the only existing fighter that was used by the Flying Tiger Fleet, whose fame continues to grow long after the war, it is of great historical significance.