US troops shoot dead Reuters cameraman in Iraq
( 2003-08-18 10:37) (Reuters)
U.S. troops shot dead an award-winning Reuters cameraman while he was filming on Sunday near a U.S.-run prison on the outskirts of Baghdad.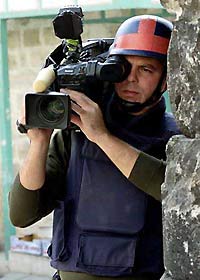 Reuters cameraman Mazen Dana films in the West Bank city of Hebron, October 18, 2001. [Reuters]

Eyewitnesses said soldiers on an American tank shot at Mazen Dana, 43, as he filmed outside Abu Ghraib prison in western Baghdad which had earlier come under a mortar attack.

Dana's last pictures show a U.S. tank driving toward him outside the prison walls. Several shots ring out from the tank, and Dana's camera falls to the ground.

The U.S. military acknowledged on Sunday that its troops had "engaged" a Reuters cameraman, saying they had thought his camera was a rocket propelled grenade launcher.

"Army soldiers engaged an individual they thought was aiming an RPG at them. It turned out to be a Reuters cameraman," Navy Captain Frank Thorp, a spokesman for the chairman of the Joint Chiefs of Staff, told Reuters in Washington.

Journalists had gone to the prison after the U.S. military said a mortar bomb attack there a day before had killed six Iraqis and wounded 59 others.
Reuters cameraman Mazen Dana [Reuters]


Recounting the moments before the shooting, Reuters soundman Nael al-Shyoukhi, who was working with Dana, said he had asked a U.S. soldier near the prison if they could speak to an officer and was told they could not.

"They saw us and they knew about our identities and our mission," Shyoukhi said. The incident happened in the afternoon in daylight.

The soldier agreed to their request to film an overview of the prison from a bridge nearby.

"After we filmed we went into the car and prepared to go when a convoy led by a tank arrived and Mazen stepped out of the car to film. I followed him and Mazen walked three to four meters (yards). We were noted and seen clearly," Shyoukhi said.

"A soldier on the tank shot at us. I lay on the ground. I heard Mazen and I saw him scream and touching his chest.

"I cried at the soldier, telling him you killed a journalist. They shouted at me and asked me to step back and I said 'I will step back, but please help, please help and stop the bleed'.

"They tried to help him but Mazen bled heavily. Mazen took a last breath and died before my eyes."

AWARD-WINNING JOURNALIST

Dana's death brings to 17 the number of journalists or their assistants who have died in Iraq since war began on March 20. Two others have been missing since the first days of the war.

Dana is the second Reuters cameraman to be killed since the U.S.-led force invaded Iraq to topple Saddam Hussein.

On April 8, Taras Protsyuk, a Ukrainian based in Warsaw, died when a U.S. tank fired a shell at the 15th floor of the Palestine Hotel, the base for many foreign media in Baghdad.

"Mazen was one of Reuters finest cameramen and we are devastated by his loss," said Stephen Jukes, Reuters global head of news.

"He was a brave and award-winning journalist who had worked in many of the world's hot spots," Jukes said.

"He was committed to covering the story wherever it was and was an inspiration to friends and colleagues at Reuters and throughout the industry. Our thoughts and deepest sympathies are with his family."

Dana, a Palestinian, had worked for Reuters mostly in the West Bank city of Hebron.

Paul Holmes, former Reuters bureau chief in Jerusalem, recalled a towering, chain-smoking bear of a man with a ruddy complexion and expansive heart.

"The amazing thing about him was he was like the king of Hebron. Every journalist in the city looked up to him and any journalist who covered the Israeli-Palestinian conflict will know and love Mazen," he said.

Reuters Chief Executive Tom Glocer said he hoped there would be "the fullest and most comprehensive investigation into this terrible tragedy."

Married with four young children, Dana was one of the company's most experienced conflict journalists and had worked in Baghdad before, shortly after U.S. troops entered the city.

He was awarded an International Press Freedom Award in 2001 by the Committee to Protect Journalists for his work in Hebron where he was wounded and beaten many times.