"Liu Sanjie" performed in natural scenic setting
( 2003-08-17 10:24) (Xinhua)
Zhang Yimou, world-renowned Chinese film director, Saturday began directing a folk musical, "Third Sister Liu (Liu Sanjie)", in an outdoor scenic setting in Yangshuo County of Guilin City in south China's Guangxi Zhuang Autonomous Region.
Zhang's idea, to perform a piece at a natural setting rather than in a theater, was inspired by the well-known musical film, " Third Sister Liu", featuring a legendary singer and the local culture and customs of ethnic groups in Guangxi.
"The performance is expected to succeed, as we have such beautiful scenery here," Zhang said in Yangshuo, one of the major tourist attractions in China.
He said the performance is a major project for the development of Yangshuo, which boasts 54 percent of the water area of Lijiang, one of the country's most beautiful rivers.
The performance venue, on a riverbank surrounded by 12 mountains, boasts 2,000 seats, from which the audience can see for two kilometers into the distance.
During the one-hour performance, more than 600 actors, who are local fishermen, will be dressed in different styles of Zhuang, Miao and Yao ethnic group clothing, and will jointly sing folk songs, popular both at home and overseas.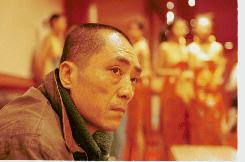 Famous Chinese director Zhang Yimou.
Mei Shuaiyuan, the performance's producer, said the scenery will change as the real settings change with the natural seasons. He pointed out that the performance will pay much attention to environmental protection and offer portable toilets at the venue.
According to Mei, the performance will be officially staged every day from Oct. 1 to 7, and will continue to be performed every one or two days after that.
Mei said they have applied to be entered in the Guinness Book of World Records for the bamboo buildings, which serve as the set, and for the real mountain-river setting theater, both claimed to the world's largest.