Disgraced official highlights chinks in system
( 2003-08-15 10:29) (China Daily)
When news came over the weekend that Cheng Weigao, former chairman of the Standing Committee of the Hebei Provincial People's Congress, was expelled from the Chinese Communist Party (CPC) for violating Party disciplines, it did not cause much of a stir.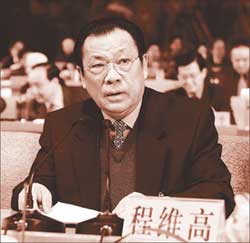 Cheng Weigao, former chairman of the Standing Committee of the Hebei Provincial People's Congress. [newsphoto.com.cn]
Only a limited number of people vented their frustration over the latest revealed corruption case in the chat rooms of domestic websites. The majority of people chose to treat the incident with indifference.
Intensified investigations by the Party's disciplinary inspection organs in recent years have uncovered a large number of corrupt officials, a few of them holding even higher positions than Cheng in the Party or the government. While driving home the message that the Party and the government are determined to root out corruption from all of their ranks, the frequent exposure of corruption cases has somehow enabled the public to withstand something that used to be hard to swallow.
Though the whole story of Cheng is yet to be made public, the fact that he was given the most severe punishment the Party could mete out to its members indicates that he did something unforgivable. According to the terse announcement made by the Standing Committee of the Central Commission of Discipline Inspection (CCDI), Cheng should be held responsible for great economic losses to the government brought on by his corrupt practices.
He allegedly used his influence to enable his wife and children to engage in illegal activities, accept valuable gifts as bribes, and connive with his two secretaries to commit crimes. He was also accused of seeking vengeance against colleagues who reported his corruption.
Cheng will also have to face the punishment of law as it can be deduced that the amount of money taken must be considerable.
Despite the fact that the nation does not lack either outspoken words or heaps of regulations and laws targeting corruption, evil continues to find its way into our organs of authority, holding officials captive. Even the CCDI, which has been aggressively engaging in anti-corruption campaigns, confessed in its open document that it has only succeeded in containing the rising tendencies of corruption.
The degenerate behaviour of Cheng mirrors major symptoms of present-day corruption that run rampant in some government organizations and localities.
It is not beyond possibility that Cheng's history of corruption could date back as far as the 1990s, when he also served as Hebei governor and secretary of the Hebei Provincial Committee of the CPC. For one thing, two of his secretaries, when he was holding the positions, have already been found guilty of corruption and bribery among other crimes.
Li Zhen, one of the culprits, was sentenced to death. Without the shielding and protection of Cheng, Li could not have moved up the ladder of power at such an amazingly high speed. And without Cheng behind him, some of the bribery cases that were aimed to exchange money for Li's influence would not have happened at all.
The fact that Cheng's relationship with his corrupt secretaries was held as one of the major mistakes by the CCDI indicates that the Party really means to honour its relevant regulations. In a major decree of the Party, it stipulates that high-ranking officials should be held responsible for the work and credentials of those subordinate to them.
In a sense, Cheng might be the highest-ever official that was dragged down by his secretaries. But he is not alone, as he was at the same time tied down by the illegal activities of his kinsfolk. Like Cheng, many corrupt officials have also been found using their influence for the benefit of their wives, children and even mistresses.
Had it not been for the unrestrained and supreme power in his hands within his jurisdiction, Cheng would have fallen short of the wishes of his insatiable relatives.
The collapse of Cheng once again highlights the concern that supervision over the behaviour and actions of leading officials seems to be one of the weakest links in our supervision system.
| | |
| --- | --- |
| | Li Jiating (left), former governor of Yunnan Province, was sentenced to death with two-year probation for taking bribes, while hearings on charges against his 30-year-old son, Li Bo (above), also for taking huge amounts of bribes, is still underway in Kunming, capital city of Yunnan. [newsphoto.com.cn] |
Arguably, the lack of an effective and comparatively independent supervision system has encouraged officials like Cheng to walk along a dangerous road to self-destruction.
Even if their corrupt deeds might be discovered and reported at a certain stage, the current practice that a leading official in a place or an organization is imbued with all manner of ruling power more often than not augurs bad luck for people who dare to report these officials.
So long as the higher authorities cannot interfere in a timely manner, parallel supervision organs can hardly bring the problematic officials to justice. Instead, the latter can easily take vengeance on people who report them.
Cheng's example is a case in point.