L.A. man charged over Cameron Diaz photographs
( 2003-08-14 11:31) (Agencies)
A Los Angeles photographer was charged on Wednesday with trying to extort $3.3 million from Cameron Diaz over pictures taken at a private modeling session before the actress became a star.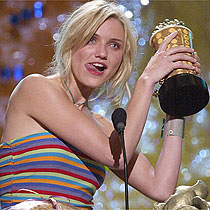 Photographer John Rutter, who claimed to posses a 1992 release for the pictures signed by the "Charlie's Angels" star, was charged with attempted extortion, attempted grand theft and perjury and two counts of forgery.
He is accused of forging her name on the release, Sandi Gibbons, a spokeswoman for the Los Angeles County District Attorney's Office, said, and faces a maximum of six years in prison if convicted.
Rutter was arrested at his apartment in the Los Angeles beach community of Venice on his 41st birthday, and was being held on $250,000 bail pending an arraignment.
Last week a judge ordered the photos and a videotape of Diaz sealed.
Diaz, a 30-year-old California native, made her feature film acting debut opposite Jim Carrey in the hit 1994 comedy "The Mask" and has since gone on to become one of Hollywood's top female stars.