Clijsters wins 1st match as No. 1 player
( 2003-08-14 10:36) (Agencies)
Kim Clijsters easily lived up to her new ranking as the world's top player, taking just 48 minutes Wednesday night to advance to the third round of the Rogers AT&T Cup.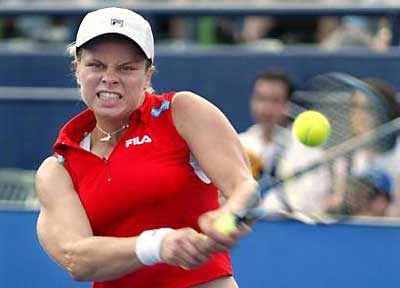 Kim Clijsters


The player from Belgium, who replaced Serena Williams at the top on Monday, routed Francesca Schiavone 6-1, 6-2. Williams, who withdrew before the start of the tournament, had been No. 1 for 57 weeks.

Clijsters is the first woman to reach No. 1 without having won a Grand Slam title since the WTA Tour introduced its nrankings in 1975, but has a tour-leading six victories this season and has reached the semifinals of all 14 appearances.

"I definitely felt great out there," Clijsters said. "She probably made more mistakes than the other two matches I've played (against her) in the last few weeks.

"But I played very aggressive and never gave her a chance to play her game."

In the afternoon, second-seeded Justine Henin-Hardenne and defending champion Amelie Mauresmo won second-round matches.

Other seeded players advancing to the third round of the $1.3 million event were No. 4 Daniela Hantuchova, No. 5 Anastasia Myskina, No. 9 Elena Dementieva, No. 10 Vera Zvonareva, No. 12 Elena Bovina, No. 14 Nadia Petrova and No. 15 Nathalie Dechy.

Henin-Hardenne had an easy time with Marion Bartoli, winning 6-3, 6-3. Bartoli was ahead 3-2 in the second set, but Henin-Hardenne said a turning point came when she won a long, hard-fought rally to make it 30-30.

"Mentally and physically it was an important point," Henin-Hardenne said. "I was feeling fresh and probably she was a little bit tired."

Bartoli was broken after hitting the net on the next two points.

Mauresmo overcame several errors in the first set to beat Elena Likhovsteva 3-6, 6-1, 6-2.

Third-seeded Mauresmo has battled knee and rib injuries this season and, with the exception of Fed Cup hasn't played a tournament since June. But she wasn't worried when she got behind against Likhovsteva.

"I was a little disappointed by the way I started," Mauresmo said. "It happens very often for me when I am out for a few weeks. I takes a little time to come back."

Hantuchova routed Jill Craybas 6-1, 6-2.

"I was really pleased with the way I played today," Hantuchova said. "And it's always nice to have a match like this at the beginning of the tournament which gave me a lot of confidence. I felt really good out there today."

Myskina received a scare from Nicole Pratt but won 3-6, 7-6 (2), 6-4.

Myskina was down as much as 5-1 in the second set. Her coach was so unhappy with her play that he stormed off the court.

"He was really mad that I was down and I just said that I have to win because I don't want to make him even more angry," Myskina said.

Dementieva defeated Janette Husarova 6-1, 6-1; Zvonareva downed Mashona Washington 6-1, 6-1; Bovina took Cara Black 6-3, 6-2; Petrova ousted Virginia Ruano Pascual 6-3, 4-6, 7-6 (3), and Dechy topped Fabiola Zuluaga 6-2, 7-5.