Blood stem cells save student
( 2003-08-13 10:15) (China Daily)
A college student from Shanghai who has leukaemia received the blood stem cells of a farmer from Southwest China yesterday in the first of two potentially life-saving transplant operations in Beijing.
It was the first such operation carried out through cross-provincial co-ordination by the China Stem Cell Donor Information Resources organization. The operation was done in two parts at two Beijing hospitals attached to the People's Liberation Army.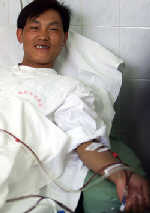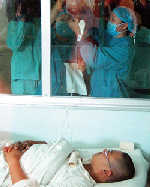 Hu Yugao (left), a donor from Southwest China's Yunnan Province, has his blood extracted Monday at Hospital No 301 in Beijing.
Chen Bo (right below), a 20-year-old leukaemia patient and a student from the Shanghai Institute of Foreign Trade, is given a transplant of 100 mililmetres of Hu's peripheral blood stem cells. [newsphoto.com.cn]
Yesterday morning, doctors with the army's Hospital No 301 spent three hours extracting 100 millimetres of peripheral blood stem cells from the donor. The cells were transplanted in the afternoon at the army's Hospital No 307.
Both the patient and the donor were doing well last night. Another 100 millimetres of blood stem cells will be transplanted today.
The 20-year-old patient Chen Bo, a student at the Shanghai Institute of Foreign Trade, was last year diagnosed with chronic myeloid leukaemia, an illness that deprived him of the ability to generate new blood.
"The only way to save Chen's life is allogenous transplant (from a donor)," said Chen Hu, an expert with the army's Hospital No 307. "It requires a healthy person whose blood cells match Chen's to donate 200 millilitres of blood stem cells."
A suitable donor was found in June after the donor information organization carried out a nationwide search for a blood match.
The donor is Hu Yugao, a peasant-turned-migrant worker from Southwest China's Yunnan Province. He happened to be passing a mobile blood-donation van in East China's Zhejiang Province and was offered information about his blood.
After a health check, he signed an agreement last Thursday to say he would donate the stem cells. Hu smiled calmly at the operating table yesterday even though he was tired after undergoing four days of injections to get the stem cells to move into his peripheral blood.
Thanks to scientific advances, donating stem cells, like donating blood, does not harm the donor, said Shen Dehuang, an official with the donor information group.
After 100 millimetres of blood stem cells was collected yesterday, Hu's blood flowed back into his body through special medical instruments.