US soldier dies in bomb attack west of Baghdad
( 2003-08-13 09:27) (Agencies)
A U.S. soldier was killed and two soldiers were wounded in a bomb attack Tuesday west of Baghdad, as Kurds near the Iranian border said they had captured dozens of militant fighters trying to infiltrate Iraq.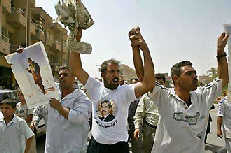 A group of Iraqi men hold pictures of former president Saddam Hussein as they shout anti-U.S. slogans in the town of Baquba, some 48 miles north of Baghdad August 12, 2003. The protesters were mostly former army personnel. [Reuters]

A U.S. Army spokeswoman said the soldier died when three synchronized bombs were detonated near a U.S. convoy in the restive town of Ramadi.

The attack brought to 57 the number of U.S. soldiers killed in guerrilla attacks since the start of May.

In the northern city of Mosul, a U.S. Humvee was destroyed in a blast and witnesses said four casualties were taken away. The U.S. Army said it had no details.

U.S. forces occupying Iraq come under daily attack, and Washington says die-hard Saddam Hussein loyalists and some foreign militants are behind the guerrilla campaign.

Adel Murad, a spokesman for the Patriotic Union of Kurdistan (PUK), told Reuters in Baghdad that Kurdish Peshmerga militiamen had rounded up 50 people near the Iranian border -- some of them members of the shadowy Ansar al-Islam group, which Washington has linked to Osama bin Laden's al Qaeda network.

Paul Bremer, Iraq's U.S. governor, told a news conference that Ansar al-Islam was one of the groups under suspicion for a truck bomb attack on the Jordanian embassy in Baghdad last week that killed at least 17 people and wounded scores.

He said the attack was "an act of irresponsible terrorism by criminals" but it was too early to say who was to blame.

"It's possible this attack was conducted by foreign terrorists. It is also possible it was conducted by Iraqis," he said. "The investigation by Iraqi police is going forward."

CONNECTIONS WITH AL QAEDA

"Ansar al-Islam, of course, has long-standing connections, affiliations if you wish, with al Qaeda," Bremer said.

Ansar al-Islam was based in Kurdish territory outside Saddam's control close to the border with Iran before the war that toppled the Iraqi leader. Bremer said its fighters had fled to Iran during the war but "a couple of hundred" had now returned to Iraq.

Murad of the PUK said Ansar al-Islam was regrouping.

"Now we think the group has returned to the area to resume their terrorist acts in Kurdistan and to participate in terrorist operations inside Iraq," he said.

U.S. officers said Tuesday forces hunting Saddam loyalists had captured one of his former bodyguards and a general in his army in a raid in the deposed president's town of Tikrit, north of Baghdad.

Officers from the 4th Infantry Division in the town said the two men were among 14 detainees captured in Monday's raid. They were not immediately named.

Earlier Tuesday, U.S. forces ended a search of an isolated region near the Iranian border after troops backed by helicopters and tanks seized stockpiles of weapons but found no trace of the fugitive dictator.

Operation Ivy Lightning, launched Monday, was the latest effort by the 4th Infantry Division to hunt down guerrillas loyal to Saddam, who remains on the run despite an intense U.S. manhunt and a $25 million price on his head.

The operation focused on remote villages around 80 miles north of Baghdad, after intelligence suggested Saddam loyalists may have fled there to escape the raids around Tikrit.

Occupying troops have faced fewer problems in the Shi'ite south, but chronic shortages of power and fuel sparked unrest in the city of Basra and surrounding areas over the weekend.

British troops have provided petrol to gas stations to try to calm tensions, but many locals remain angry fuel is rationed.

PROBLEMS HINDER OIL OUTPUT

The problems in southern Iraq have hindered the country's ability to produce and export oil -- a key prerequisite for economic recovery in the war-scarred nation.

Another barrier to progress is Iraq's isolation -- most civilian traffic has to arrive by road from Jordan or Kuwait, along highways plagued by armed bandits. International airports in Baghdad and Basra have yet to reopen to commercial flights.

Iraq's Governing Council announced it had given permission for six international airlines to start flights to Basra's airport within the next few weeks. It said the resumption of flights would be "a huge step toward normalization of ties between Iraq and the international community."