Capital Flight: Capture of corrupt officials a long drive
( 2003-08-12 12:27) (China Daily HK Edition)
Some of China's corrupt officials flee overseas with tons of money before the law can catch up with them. China Daily Hong Kong Edition senior writer Raymond Zhou investigates the murky world of family hideouts and money laundering.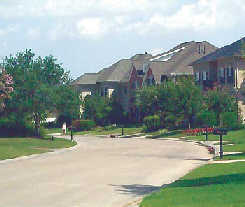 A typical American middle-class community in Rowland Heights out in the Los Angeles suburbs is jokingly referred by locals as the Shenyang Compound because many people from Northeast China with mysterious money live here.

Los Angeles -- Nestled against a hillside in Rowland Heights out in the Los Angeles suburbs is a cluster of single-family houses that the locals jokingly call the "Shenyang Compound". Residents here behave with an odd combination of profligate abandon and guarded discretion. It is an open secret that many of the households are inhabited by officials or former officials from northeastern China.

Edison, New Jersey, about an hour's drive from the New York borough of Manhattan, is another suburban enclave that has recently embraced an influx of wealthy Chinese immigrants. Among them is Pan Mingyu, the former president of a garment company in Henan Province. Pan was once a much-touted "young official" in China before he disappeared with a large sum of corporate funds.

These are just two examples of North American havens populated by a new breed of immigrants from China. Though small in number, they can be very conspicuous. They bid for million-dollar houses and pay up in full - in cash. They drive luxury cars but have no obvious source of income. They spend money as if they did not work to earn it. Many of them are on China's most-wanted list because the big bucks they are spending so freely are not theirs at all.

Like the lady who vanishes in the Hitchcock thriller, thousands of Chinese officials in charge of state-owned business entities have disappeared from the country where they are supposed to be conducting their main business and resurfaced, often with their entire families in tow, in a foreign land. In the process, huge amounts of corporate monies disappear, channelled to personal bank accounts overseas.

Authorities at the State Administration of Foreign Exchange estimate that, between 1997 and 1999, capital flight from China amounted to US$52 billion, and a significant part of that was embezzled by officials who fled the country.

A Xinhua News Agency article published in January 2002 mentioned that an incomplete tally had found as many as 4,000 people suspected of skimming corporate or government money totalling 5 billion yuan (US$604 million) were on the run from law enforcement. "This has resulted in tremendous losses for state-owned businesses and has put their operations in jeopardy," said the report.

Black hole

China's economic reform has unleashed the world's most powerful engine for financial growth, but at the same time it has opened up a Pandora's box of greed and corruption. Some people in power, given the opportunity, pillage and plunder like pirates. According to a source with the State Anti- Corruption Bureau, cases of insiders stealing sums in the millions or even tens of millions of yuan used to be rare, but have become commonplace since the mid-1990s.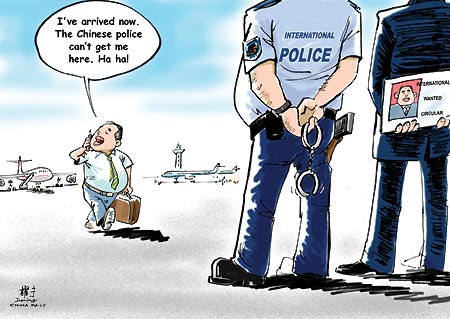 Lack of proper management is one obvious culprit. Xie Bingfeng and Mai Ronghui were lowly bank tellers at a Hainan branch of Bank of China when, in May 1998, the duo was able to pocket 50 million yuan (US$6.04 million) and escape to Thailand.
Most embezzlers, however, are senior officials with ready access to large sums of money. The most shocking incident occurred in 2001 when Xu Chaofan, then president of a Bank of China branch in Kaiping, Guangdong Province, and two of his predecessors, took US$483 million and made a run for Canada.
Compare this with Fang Jiaxing, a Ningbo official who slipped away to Canada 11 years ago with just 1 million yuan (US$120,811) in stolen funds.
Financial institutions are one disaster area, said the Anti-Corruption Bureau source. State-owned firms are another. Of all those who have eluded the law to date, about 70 per cent were senior executives at State-owned companies.
The current system leaves plenty of room for this kind of manoeuvring, said Ding Pinyu, a researcher with the Central Discipline Committee, because some senior officials simultaneously occupy all key positions, including chairman of the board, CEO and president, as well as Party secretary. "There are no checks and balances. They have absolute power, which invariably leads to absolute corruption. Some of them sign multimillion-dollar contracts without consulting anyone, as if it's their own dough."
Ding cited the example of Liu Zuoqing, president of Heilongjiang Petroleum. After he transferred 100 million yuan (US$12.08 million) to his overseas account and went AWOL with his family of eight, the company could not find a single trace of the missing money in their investigation.
According to experts, escape destinations vary in relation to the amount of money stolen and the rank of the official in question. Those of lower ranks taking smaller sums usually steal away to neighbouring countries such as Thailand, Burma, Malaysia, Mongolia or Russia, while the higher ups prefer the US, Canada, Australia or Europe. Meanwhile, those who cannot obtain visas to their preferred destinations often bide their time in Africa, Latin America or Eastern Europe until they can move on.
It is getting riskier to hide out in neighbouring countries, said a Canadian-Chinese legal expert, because China has begun co-operating with nations nearby to fight this kind of crime. Mongolia, for instance, is no longer a guaranteed sanctuary as China can now legally have these white-collar criminals deported home. Countries in Africa may have lax laws but most do not offer the kind of living environment they desire. Given the choice, most would rather end up in the developed world.
The getaway
Some of these big-guns-on-the-run used Hong Kong as their way out. Having set up businesses in the SAR, they already had Hong Kong passports, which allowed them to travel to many Western countries without needing to obtain visas.
| | |
| --- | --- |
| | Li Jiating (left), former governor of Yunnan Province, was sentenced to death with two-year probation for taking bribes, while hearings on charges against his 30-year-old son, Li Bo (above), also for taking huge amounts of bribes, is still underway in Kunming, capital city of Yunnan. [newsphoto.com.cn] |
Many further ensured their security by first moving their relatives abroad, setting up overseas subsidiaries and even acquiring foreign passports, fake or genuine.
Pan Cheng, a California businessman, has been made legal guardian of several teenagers whose parents manage State-owned companies in southern China. "Sometimes the bank will call to notify me of large sums of cash being deposited. They want to know the source. But what can I say? It scares me to think that kids this young have so much money at their disposal," Pan told China Daily.
One way to stop these embezzlers from fleeing is to deny them passports. But the reform policy has made this a losing battle as the trend is to grant any citizen a passport unless the person is already a suspected criminal.
Then there is the black market where fake passports for every country are available. One random survey revealed that a counterfeit American passport costs an average 10,000 yuan (US$1,208), while an "authentic" Canadian passport fetches 15,000 yuan (US$1,812). When police searched the residence of Li Jiating, former governor of Yunnan Province, they found five different passports bearing his likeness, supposedly issued by various foreign governments.
Some people claim it is not difficult to get a visa from a foreign consulate as long as one is willing to pay. One source told China Daily about a Chengdu-based consular official for a Western country who was involved in "selling" visas. The story cannot be independently verified, but the official was transferred from his post prematurely.
Moving millions of yuan can be troublesome, and money laundering often comes into play. The best method, according to Pan Cheng, is to open shell companies overseas. Imports come through such a company, usually operated by a close relative, at inflated prices, giving it extremely high profits, much of which will slip into personal pockets. Likewise, exports come in at such low prices as to provide a comfortable margin. In metropolises like New York, one often comes across goods dumped by fleeing officials trying to get rid of container-loads of items at fire-sale prices.
Underground banks and foreign currency services also provide a way of channelling booty abroad. "They are one-stop shops for changing illegal yuan into legal dollars," said Guo Jian'an, director of the crime prevention institute with the Ministry of Justice. Some agents in coastal regions offer their services over the phone.
"Many of these officials remain in China until the very last moment, in order to misappropriate as much money as possible," revealed Pan. "Once they get wind of an anti-corruption operation directed at them, they're out of there and headed to join their families, who have already settled down in another country, before you can blink."
Crackdown
Striving to stem the flow of escaping suspects and stolen funds, the Chinese government is taking action. An operation set up in 2002 rounded up more than 1,000 suspects who had already fled. Hundreds more surrendered on their own.
China is embarking on international co-operation in legal fields, signing extradition treaties with 40 countries. Starting from 1993, 210 suspects or convicts have been returned to China.
"But this is just the tip of the iceberg," said an official at the foreign affairs department of the Supreme People's Procuratorate. Most of these cases are in limbo.
Liu Yanji, professor of law at China University of Politics and Law, says that China's legal system still has a long way to go before it catches up with international norms. The evidence we prepare may not be admissible in a foreign court, and our demands for extradition may be overruled on technical grounds, said Liu.
Liu Jiachen, supreme justice and vice-president of the Supreme People's Court, revealed that part of the reason it is so difficult to follow through on these cases lies in the fact that those who fled took much of the evidence with them, making an investigation extremely challenging.
Meanwhile, the Chinese public is getting some satisfaction from media reports of the adverse outcomes befalling a few of these people. The Hainan bank tellers who ended up in Thailand were cheated out of much of their money by scam artists. After a further business failure, one of them hired someone to kill his partner. Millions deposited by the Kaiping bank president have been frozen by Canadian authorities at the request of a Chinese court. And many of the embezzlers have become fish out of water in countries where they cannot put their "expertise" to use.
While the mere possibility of being deported back to China may be enough to send shivers down their spines, it is the persistence of the law enforcement officials hunting them down that should really worry them. "Even if you run to the ends of the earth, we're going to get you and bring you to justice," vows Zhao Dengju of the Supreme People's Procuratorate.