US launches new mission to hunt Saddam loyalists
( 2003-08-12 08:50) (Agencies)
U.S. troops with Apache helicopters and Abrams tanks scoured a remote region north of Baghdad Monday to hunt Saddam Hussein loyalists, rounding up a dozen suspects and seizing five weapons caches.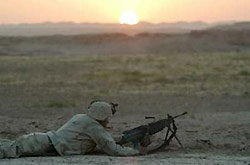 A U.S. soldier takes position during a pre-dawn raid in the village of Ain Lalin, Iraq early August 11, 2003. U.S. troops with Apache helicopters and Abrams tanks scoured a remote region north of Baghdad Monday to hunt Saddam Hussein loyalists, rounding up a dozen suspects and seizing five weapons caches. [Reuters]

The U.S. Army said one soldier was killed and two soldiers were wounded Sunday night in a bomb blast in Baquba, a restive town northeast of Baghdad.

Three other soldiers were wounded, one seriously, in a bomb and rocket-propelled grenade attack Monday near the town of Shumayt, north of Tikrit.

In Baghdad, U.S. soldiers said three Iraqis died after an American convoy was attacked with a grenade. One bloodstained body lay at the scene with at least three bullet wounds. Weeping relatives knelt down to kiss the corpse.

An American soldier said the Iraqis involved in the attack had been chased down and shot. Locals said the dead were innocent bystanders, and accused U.S. troops of firing wildly.

Fifty-six U.S. soldiers have died in guerrilla attacks since Washington declared major combat over on May 1. Most of the attacks have been concentrated in Baghdad and in the "Sunni triangle" north and west of the capital.

Support for Saddam, ousted as president in April in the U.S.-led attack on Iraq, remains strong in the region. Monday hundreds of Iraqis staged a pro-Saddam demonstration in Baquba, waving his picture and Iraqi flags as U.S. troops looked on.

IVY LIGHTNING
An Iraqi boy cries over the body of his brother in Baghdad, August 11, 2003. U.S. soldiers said three Iraqi men were killed after an American convoy was attacked with a hand grenade. The U.S. army launched a new operation Monday to hunt guerrillas loyal to deposed president Saddam Hussein in remote villages north of Baghdad, as overnight attacks killed one soldier and wounded five. [Reuters]

The 4th Infantry Division said it had launched a new mission, Operation Ivy Lightning, to hunt Saddam loyalists it believed had fled to isolated villages east of Saddam's hometown of Tikrit to escape repeated U.S. raids. "Ivy Lightning is a surgical strike in remote towns...to isolate and capture non-compliant forces and former regime loyalists who are planning attacks against Coalition forces," Lt. Col. William MacDonald told reporters in Tikrit. He said the operation was focusing on the area around Qara Tappa, around 80 miles north of Baghdad.

Saddam remains on the run despite a $25 million price on his head and the killing of his sons Uday and Qusay in a U.S. raid last month on their hideout in the northern city of Mosul.

Washington says it wants elections held in Iraq by the middle of next year so an Iraqi government can take over and the occupation can end. But a constitution must be drawn up before elections are held, and the process is just beginning.

The Iraqi Governing Council, a body appointed by the U.S.- led administration last month as an initial step on the road to self rule, named a committee Monday which will decide the mechanism for writing a constitution.

It had also been expected to name interim ministers this week, but said the decision could be three weeks away. The Council took two weeks to make its first decision -- choosing a leader -- and settled eventually on a rotating presidency. Critics say this does not bode well for swift progress.

ANGER IN BASRA

The southern Shi'ite city of Basra was calmer, after a weekend of violence when crowds angry at power and fuel shortages barricaded roads and attacked vehicles. British and Czech troops in the city fired warning shots during the unrest, and in one incident returned fire at protesters.

One Iraqi was killed by gunfire Sunday, but it was not clear who fired the shots. Another Iraqi was crushed to death under the wheels of a truck. A Nepalese Gurkha working as a private security guard was also killed, shot by gunmen as he drove through Basra delivering mail for the United Nations.

British forces distributed fuel to gas stations in 25 tankers Monday, and Iraqis who had queued for hours to fill their tanks clapped and cheered as the supplies arrived. But some were furious at rationing that restricted fuel supplies to 5.5 gallons of gasoline per car.

Officials in Iraq's U.S.-led administration say the frequent power cuts are due to sabotage of cables linking Basra to the national grid and equipment breakdowns at decrepit power stations. They say sabotage of pipelines and rampant oil smuggling have led to the shortage of fuel.