Chinese FM calls for diplomacy over Korea
( 2003-08-12 07:14) (China Daily)
Foreign Minister Li Zhaoxing said in Tokyo Monday that China hopes the nuclear issue of the Democratic People's Republic of Korea will be solved peacefully through the envisioned six-party talks.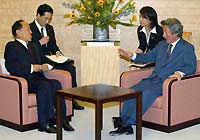 Chinese Foreign Minister Li Zhaoxing (L) talks with Japanese Prime Minister Junichiro Koizumi in Tokyo August 11, 2003. [Reuters]

Li was meeting Japanese Prime Minister Junichiro Koizumi and Foreign Minister Yoriko Kawaguchi.

The Chinese foreign minister said he welcomed Japan playing a "constructive role" in efforts to deal with the nuclear issue.

Koizumi and Kawaguchi praised China's efforts to realize the six-party talks on the issue involving China, the DPRK, Japan, the Republic of Korea, Russia and the United States.

The talks are expected to be held in Beijing at the end of this month but the timing and venue have yet to be formally announced.

During his four-day visit to Japan to mark the 25th anniversary of the Sino-Japanese Treaty of Peace and Friendship, Li stressed that China and Japan should always adhere to the treaty's principles.

The treaty established a solid political foundation for the development of bilateral relations, promoting not only exchanges at government level but also economic co-operation and friendship between the people of each country, Li said.

Li spoke highly of the determination of the Japanese Government, especially Koizumi, to adhere to the peaceful principles and spirit of the treaty to promote Sino-Japanese relations.

History should not be a burden but an incentive to promote the healthy development of bilateral relations, Li said.

Koizumi reiterated that Japan will continue to adhere to the principle of taking history as a mirror and looking forward to the future.

China's development is a chance for Japan, not a threat, Koizumi said. Japan is to make further efforts to boost bilateral ties for mutual benefit, he said. Later in the day, Li met Tetsuzo Fuwa, chairman of the Japanese Communist Party's Central Committee and held a press conference at the Japan National Press Club.

In another development in Beijing, China's Vice-Foreign Minister Wang Yi and his Russian counterpart Alexander Losyukov held in-depth discussions on the issue and agreed to work for a diplomatic solution.

Both sides said they hoped the six parties would strengthen dialogue and mutual understanding to reduce differences and make concerted efforts to safeguard peace and stability on the Korean Peninsula.

After the discussion, Losyukov also met Chinese Vice-Foreign Minister Dai Bingguo.

The prospect of fresh negotiations comes after April's Beijing talks, when Washington and Pyongyang held talks under Chinese auspices in an effort to move forward on the nuclear stand-off that erupted last October when the United States said Pyongyang had admitted to reviving a nuclear arms programme.